When small business owners and strategists are looking to network, learn and develop new tactics with an eye towards profitability, there is no better place to be than the annual Small Business Expo. With the Small Business Expo 2012 editions set to be held in New York and Los Angeles in May and November respectively, thousands of business professionals from all over the country will converge with a single goal of increasing the profitability of their businesses.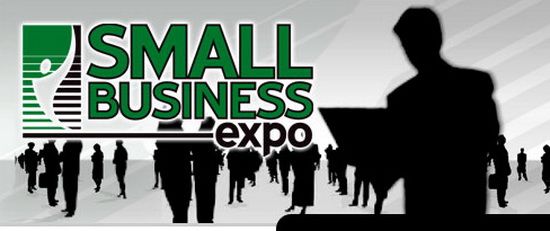 While aimed at small businesses, Small Business Expo 2012 will be no small event itself! Boasting extensive workshops and seminars, the latest in services and technology, fantastic speakers with nearly limitless combined experience alongside the fun and excitement offered by these two fabulous cities, Small Business Expo 2012 will offer nearly limitless opportunities to network, learn and plan for the future of your business.
Given the wealth of opportunities to be found, allow this quick guide to help you build an itinerary for your own personal Small Business Expo 2012 experience!
Networking Breakfast
Small business owners are invited to start the day by sharing a morning meal with their colleagues, presenting the first of many networking opportunities. Alongside a continental breakfast, you'll be treated to a workshop with information on how, as a small business owner, you can make the most of your visit to Small Business Expo 2012. Meet and greet colleagues new and known while easing into the day's events with a delicious meal.
The Exhibitor Hall
All visitors are welcome to come and explore our exhibitor hall with showcases from the vendors of great products and services all aimed at helping you to reach a new level of success and profitability with your small business. Vendor representatives will be hosting demonstrations throughout the day to give a full overview of all offerings, leaving you in-the-know about the latest and greatest products and services for your business.
The Roundtable Networking Area
Featuring scheduled networking events for all types of business professionals, the Roundtable Networking Area gives you the opportunity to rub shoulders with both like-minded business owners and specialists in your niche. Whether you are the decision-maker behind a large business or a freelance graphic artist looking to meet and greet potential new clients, you'll not find a better place for building your business contacts list than the Roundtable Networking Area.The Cyber Lounge
All guests are encouraged to visit our Cyber Lounge, a simple internet-connected sitting area fully stocked with PCs, allowing you to take a break, check your email and stay on top of the news. The Cyber Lounge is available to all visitors for the duration of the expo.
Workshops and Educational Conferences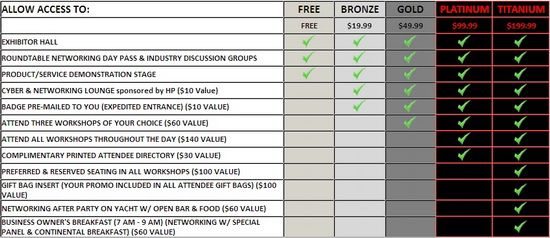 Hear lectures and presentations from the sharpest business minds in the country during any one of the 45-minutes workshops to be offered at Small Business Expo 2012. Whether you're interested in the latest financial planning tactics, the latest technology to help you increase productivity or tried and true methods aimed at greater profitability, you'll find opportunities to hear from the best and brightest professionals involved with small businesses!
Free Prizes
Every attendee will have their name entered to win fantastic prizes with raffle draws taking place every hour, all day, during Small Business Expo 2012. With prizes such as Carnival Cruises, computers and holiday getaways given away in years past, you can be sure the prizes offered this year will be worth the visit in and of themselves.
Networking Yacht After Party
Our Titanium Badge holders are invited to follow up Small Business Expo 2012 aboard a private yacht at our Networking After Party. Visit the open bar and take the evening to assimilate all that you've taken in through the day while rubbing shoulders with the very best of your colleagues.
Traveling and Accommodation Tips:
Conclusion
All things considered, visitors and vendors attending Small Business Expo 2012, whether in New York City or Los Angeles, will be treated to the best our industry has to offer where products, people and ideas are concerned. With time to network with your colleagues while taking in product features and educational workshops, you'll leave with a head full of ideas, new tools to help you succeed and a renewed passion for your business endeavors!