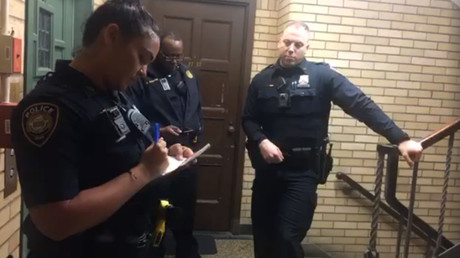 The dean of Yale says the prestigious university needs to make efforts to be more inclusive after a white graduate student called the police on a black student who fell asleep on a couch in a common area of their campus residence.
Lolade Siyonbola posted a 17-minute recording on Facebook of her encounter with police officers and the student who called the law enforcers. It clearly struck a chord, as the footage has since been viewed more than 730,000 times.
It is the latest in a string of recent incidents in America which have seen police called to respond to minor complaints regarding black people. The most high-profile example involved two black men who were arrested in a Starbucks in Philadelphia.
Siyonbola was questioned by police for more than 15 minutes before it was confirmed that she was a Yale student who lived in the building. She showed the officers her room key and her ID, and accused them of harassing her.
"I deserve to be here," she said. "I paid tuition like everybody else. I am not going to justify my existence here. It's not even a conversation." The officers said the encounter took longer than expected because her name was spelled incorrectly in the student information database.
In a second video posted by the 34-year old, who is studying for a master's degree in African studies, the student who called the cops says: "I have every right to call the police. You cannot sleep in that room."
The videos also show Siyonbola telling officers that the white student suffers from mental illness and she had previously called police on a friend who had got lost in the building.
Lynn Cooley, the dean of Yale's graduate school of arts and sciences, sent an email to graduate students inviting them to share their concerns about the incident.
"Incidents like that of last night remind us of the continued work needed to make Yale a truly inclusive place," she wrote. "I am committed to redoubling our efforts to build a supportive community in which all graduate students are empowered in their intellectual pursuits and professional goals within a welcoming environment."
The incident sparked a flood of reaction on social media with the name of the white student and #NappingWhileBlack quickly going viral.
Like this story? Share it with a friend!
Via RT. This piece was reprinted by RINF Alternative News with permission or license.