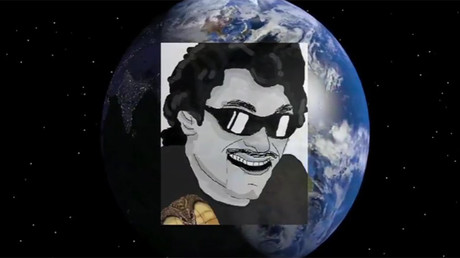 A new satire show is coming to RT.com with the digital channel plucking funny man Francis Higgins from small town Ireland to delve into world headlines, turning the news upside down.
Higgins' comedy character, 'The Viper,' will dissect all the big stories from his own eccentric, offbeat point of view.
Watch as Higgins wrestles with current affairs, unleashing his warped wit and sardonic tone on news reports and footage.
The show gives Higgins a regular platform for his comedic streams of consciousness after being shunned by what he describes as the "soft sh*tes" of the mainstream media.
The first installment sees Higgins remix news on "dodgy terror threats" ahead of the European Championships, illegal raving, China's "Tetris" tanks, as well as crucial insight into Brexit booze prices.
Higgins also lends uncensored voiceovers to an unusual and unofficial Euro 2016 song about terrorism which must be heard to be believed.
The show comes with a warning, as Higgins explained.
"I can be quite rude and I like to say things that others would shy away from. Viper's View will contain just enough cynicism to see you over the finish line of what has inevitably been a sh*t working week, where you have toiled away for some arsehole.
"I'm happy to be making stuff for RT because they always have the best guests and personalities. I want to give people the strength to carry on in a world ran by evil."
Higgins believes that together, viewers of the Thursday online show can help change the world.
"Like and share it so that we can smash down the walls of Babylon," he says.
Francis Higgins first came to prominence in the hit Irish TV show Hardy Bucks which followed the misadventures of wayward youths living in rural Ireland.
The show's success eventually led to a call from Hollywood, or at least some monied film guys from Universal Studios, and saw 'The Viper' reach the big screen.
For a sneaky taste of what the rural slickster has to offer, Higgins has produced a clip of his trip to the RT offices in London to meet our bigwigs and cut loose with straight-talking George Galloway.
The Viper's unique video remix of current affairs, will be unleashed on RT.com every Thursday.
Via RT. This piece was reprinted by RINF Alternative News with permission or license.