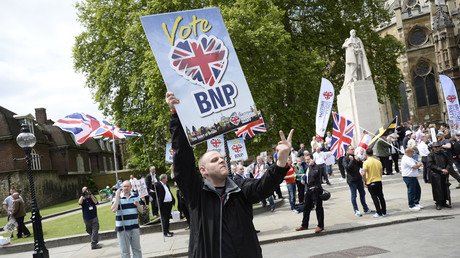 Iowa congressman Steve King has attracted a backlash after apparently endorsing a Twitter post from a prominent British far-right activist.
"65% of Italians under the age of 35 now oppose mass immigration. Europe is waking up…" Mark Collett tweeted on Tuesday, citing a recent public opinion poll in the country. Collett came to prominence as the leader of the youth wing of the far-right British National Party, BNP, and his incendiary statements about immigrants and Jews, before rebranding himself to become a darling of the alt-right movement.
The post was retweeted by Rep. Steve King, who added his own line to the post. "Europe is waking up… Will America… in time?" King posted.
"No mainstream politician in their right mind should be retweeting Mark Collett," Nick Ryan, director of communications at anti-racism advocacy group Hope Not Hate, told the Huffington Post.
Collett, who has in the past said that he is "drawn to a racially pure white society" expressed his attitude to immigration with the phrase "Just because a dog is brought up in a stable doesn't make him a horse."  He has also claimed that discrimination against Jews throughout history is evidence that "there's no smoke without fire." Collett, who has 35,000 followers on Twitter, has also stated that HIV is a "friendly disease" because it disproportionately affects blacks, homosexuals and drug-users.
While 69-year-old King is decades older than Collett and is on the inside – rather than on the margins – of the political establishment, having sat in the House of Representatives since 2003, his notoriety is similarly founded on his public statements.
He has written that illegal migrants from Mexico "have got calves the size of cantaloupes because they're hauling 75 pounds of marijuana across the desert." On immigration, he has endorsed Holland's Geert Wilders, and expressed views such as, "Diversity is not our strength" and "We can't restore our civilization with somebody else's babies."
He has also been a keen advocate of birtherism and used to display a Confederate flag on his desk. King is facing a battle for re-election in the November mid-terms, and his Democrat rival J.D. Scholten fired off a series of tweets in relation to the latest incident.
There have also been broader caustic and analytical remarks about what the ideological convergence of the Republican Party and nativist opinion-makers means for American politics.
Think your friends would be interested? Share this story!
Via RT. This piece was reprinted by RINF Alternative News with permission or license.