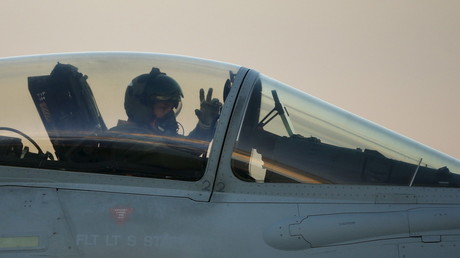 As the wheels of war start to turn at pace, who are some of the UK MPs who simply cannot wait to get on with the assault on Syria?
John 'Erdogan's mate' Woodcock
As a consistent outspoken critic of Labour leader Jeremy Corbyn – to the point of having to ask yourself, what does Woodcock actually agree with his leader on? – is it then any surprise that he is at odds with the Labour leader's cautious, evidence-based approach to the alleged chemical attack in Douma?
Writing in the Evening Standard, rather than backing his leader's approach to the crisis in Syria, Woodcock calls on his Labour colleagues to rebel and "rise above the excuses and diversions which emanate from the shadow frontbench whenever there is a crisis."
This has had his critics poking holes in his argument laid out in his Evening Standard piece.
One of those being Matt Zarb-Cousin, Corbyn's former aide, who tweeted: "If you're going to ask Labour MPs to vote against their party line, at least come up with a more coherent argument than: we should bomb to show there's 'severe consequences'."
Woodcock has faced accusations of being an apologist for Turkish President Recep Tayyip Erdogan after praising his 'pluralism' in an op-ed piece published in the pro-government Daily Sabah last year. Woodcock more recently has been in Saudi Arabia to learn ostensibly about the kingdom's involvement in Yemen during the parliamentary recess period.
In addition, his local Labour Party has reported him to UK Labour's National Executive Committee concerning his behavior towards leader Corbyn.
Other Labour MPs such as Alison McGovern, Ruth Smeeth and Wes Streeting are also reportedly open to backing military strikes.
Johnny 'Army Captain' Mercer 
The former British Army and Sandhurst military-trained captain has been an outspoken supporter for Theresa May's government bypassing that most democratic of UK institutions, Parliament, in favor of the PM exercising her executive power and ordering strikes on Syria.
On BBC Newsnight on Thursday he declared: "The prime minister and the National Security Council we elect them and they look at the information and they make their decision based on that and that's how a democracy works."
The MP for Plymouth Moor View was subsequently attacked online for his "we must never let Parliament inhibit" tweet.
Tom 'the Colonel' Tugendhat
This former lieutenant colonel in the British Army has served in Iraq and Afghanistan, and is the current Conservative chair of the Foreign Affairs Select Committee. Tugendhat has been a constant critic of both the Syrian government and its Russian allies.
He justifies his backing for military action in Syria based on humanitarian reasons, saying that "standing aside while people are gassed or sharing the murderer's lies doesn't make us safer. It creates instability and resentment that will hurt us at home."
In a previous tweet he argues that "there are legitimate uses of force. Standing by as kids are gassed isn't pacifism, it's tolerating evil."
Michael 'the Armchair General' Gove
The environment secretary is said to be one of the most hawkish in Theresa May's government. In 2013 when MPs voted against military action in Syria, Gove is reported to have shouted "disgrace, disgrace!" across the floor of the House of Commons towards the opposition benches. In the days afterwards he admitted that the Commons defeat "got to him."
Who would have thought that missing out on the "prestige" of war would be so hard to take for Mr Gove?
Fast forward to the present and Gove along with his now best friend, Foreign Secretary Boris Johnson, has reportedly been lobbying for military strikes against Syria during recent cabinet meetings.
So there we have it, a collection of MPs that have either got form on backing UK military intervention or have plied their trade out on the war fields of the Middle East. So will their calls be heard? Only time will tell. What is certain is that Theresa May is taking her lead from the ever so cool-headed, meticulously forensic president of the United States of America.
Like this story? Share it with a friend!
Via RT. This piece was reprinted by RINF Alternative News with permission or license.