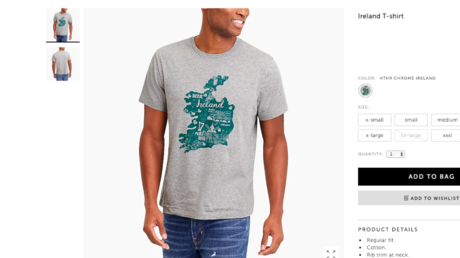 J.Crew is being trolled for its frankly horrendous St Patrick's Day t-shirt that depicts Northern Ireland as a blank space, while the rest of the island is covered in some very random items that don't all exactly scream Irish.
Not surprisingly, beer, a harp and Dublin Castle are featured on the t-shirt, but the most prominent symbol of Ireland displayed on the clothing looks like it would be more at home on a product celebrating the Netherlands.
Front and center on the shirt is a large windmill, which is strange because Ireland is not known for its windmills. At all.
J.Crew's most egregious faux pas was the omission of Northern Ireland's six counties from the map. While the island is divided into the Republic of Ireland and Northern Ireland, which is part of the UK, St Patrick's Day is a day that all of Ireland celebrates.
St Patrick's Day celebrates Ireland's patron saint, Patrick, who was brought to County Antrim (now in Northern Ireland) as a slave and is buried in County Down (also in Northern Ireland).
Many expressed disgust with J.Crew, with some calling for a boycott, while others simply had a laugh at how bad the t-shirt design was.
This isn't the first time J.Crew has gotten confused about Irish geography, having previously advertised an 'English Donegal tweed' coat. Donegal is not in England, it's – you guessed it – in Ireland.
Think your friends would be interested? Share this story!
Via RT. This piece was reprinted by RINF Alternative News with permission or license.