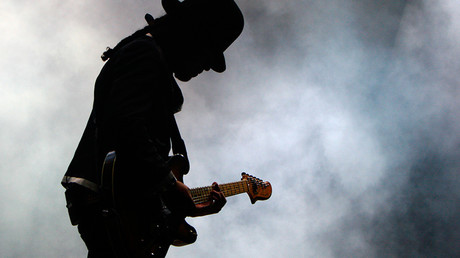 "Fight the power" sang hip-hop giants Public Enemy. "This machine kills fascists" was the famous message on folk legend Woody Guthrie's guitar. In that spirit, RT's 'Watching the Hawks' showcased musicians using their talents to deliver a message.
In a four-episode series this week, RT America's 'Watching the Hawks' — co-hosted by Sean Stone, Tyrel Ventura, and Tabetha Wallace — invited a diverse set of musicians to share their work and discuss how awareness of political and social issues of the day drives their creativity.
Musician Greer Sinclair told 'Watching the Hawks' that music was an important part of learning to communicate with her peers when she moved from Los Angeles to a small town in Louisiana. Music and its rhythms are a connection to those who have come before us, she said.
"Growing up in Louisiana, I was certainly influenced by the Delta blues and traditional blues music," she said. Billie Holliday and others "had a real connection and passion to the music they were singing, and I think for them it was a way of articling things that maybe they couldn't  say otherwise and moving people so that they understood in a way that they couldn't in just straight conversation."
Artist Rob Watson, who created the 'Watching the Hawks' theme song, said hip hop music is a way for people without power and influence to make a difference through a powerful narrative.
"Hip hop is contagious because of the stories it tells and the people it tells the stories for are those who have not had their story told," he said.
Singer-songwriter David Baerwald said that music and a deep-seated passion for its power was instilled in him during childhood, as the son of classical musicians.
"My bedroom happened to be right under the living room" where his parents would play in string trios, he said of his life as a boy.  "I was lying in my bed, just how beautiful it was … it just devastated me to my core."
Music, Baerwald said, "was like in my blood stream, I would quiver all night, I wouldn't be able to sleep." 
At age 15, he was a roadie for the seminal punk rock band The Weirdos, then went on to form his own punk band, The Spastics. Later, he would step away from a successful musical career for three years to work as an investigative journalist covering a series of murders related to the US Navy and Marine Corps.
"Reaching out and not making people feel alone, that is a hugely valuable thing that music can do," he said of where art and ideals collide, mentioning David Bowie as an example of the kind of artist that could communicate to the disaffected.
Michale Graves, a former lead singer of the legendary punk band Misfits in the 1990s, said that music has a unique power among humans.
"You read about ancient philosophers, men of great minds and great spirit, would write about music, it would say that music has the ability to corrupt the soul or save a soul," he said. "Same with a society, in that it's a power unlike anything else we as humans experience."
Punk rock first resonated with Graves, who now plays acoustic guitar. He said the "tag line" for his new tour is 'world on the brink of disaster.'
"We've come apart so badly in this country and all over the world by the puppet masters, by the elite, by the banksters, by whoever you want to label them as," he said.
Via RT. This piece was reprinted by RINF Alternative News with permission or license.