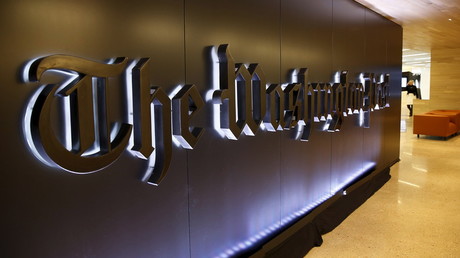 The Washington Post has been forced into making several corrections to a story claiming that the number of people killed in US schools this year was double that of those killed serving in the military.
READ MORE: 'Door control is the real issue': Twitter reacts to Texas high school massacre
The newspaper revised the piece after it emerged that reporter Philip Bump had based his findings on incomplete figures gleaned from Department of Defense press releases. The story has since been updated with new information provided by the website 'Task & Purpose.'
The new figures added an extra seven fatalities to the total of military fatalities, meaning that – while the number of people killed in school shootings is still quite shocking – it is by no means "double" the number of those killed while serving in the military.  
"The figures for 2018 do not suggest schools are more dangerous than combat zones. After all, there are more than 50 million students in public elementary and high schools and only 1.3 million members of the armed forces," the story reads.
The story added that members of the military are around 40 times more likely to be killed than a student in a school shooting, representing a revision of the original piece, which put the rate at 17 times more likely. The revision has sparked a mixed reaction online. The original report was shared widely on Twitter, with a number of liberal commentators seen to regurgitate the false claim.
READ MORE: Tucker Carlson goes bananas after ex-cop claims AR-15 can shoot 150 rounds in 15 seconds (VIDEO)
Critics were quick to brand the report "fake news" and claim it as an example of perceived anti-gun bias by the liberal media. Others were more philosophical, saying that while the reporting may have been incorrect, the real numbers remain startling.
Via RT. This piece was reprinted by RINF Alternative News with permission or license.