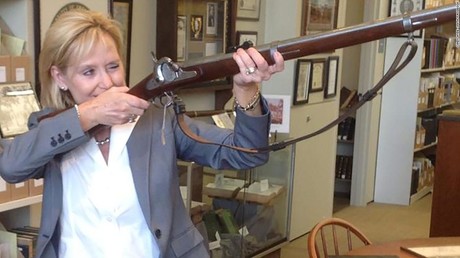 Following a campaign-trail joke about a 'public hanging', incumbent Mississippi Senator Cindy Hyde-Smith has been dumped by crucial campaign contributors with just one week till the final midterm runoff.
Major campaign funders including Pfizer and Walmart are withdrawing their support for incumbent Republican senator Cindy Hyde-Smith in response to her morbid joke about public hangings that many see as racist. The loss of this critical support comes at a disastrous time for the campaign, with Mississippi poised to hold the final runoff election of the midterms on November 27.
The scandal began when Hyde-Smith joked on the campaign trail that she enjoys the company of one of her supporters so much that if he "invited me to a public hanging, I'd be on the front row." While her supporters laughed, the joke didn't sit well with many given Mississippi's strong historical connection to lynchings and the fact that her opponent, former US secretary of Agriculture Mike Epsy, is black.
Some of her critics went as far as interpreting her comments as "support of public hangings."
"If he invited me to a public hanging, I'd be on the front row"- Sen. Cindy Hyde-Smith says in Tupelo, MS after Colin Hutchinson, cattle rancher, praises her.

Hyde-Smith is in a runoff on Nov 27th against Mike Espy. pic.twitter.com/0a9jOEjokr

— Lamar White, Jr. (@LamarWhiteJr) November 11, 2018
While Hyde-Smith responded to the backlash saying that "any attempt to turn this into a negative connotation is ridiculous", it seems many of the people funding her campaign think otherwise.
A Pfizer spokesperson told ABC on Tuesday that the they "condemn racism and bigotry in all its forms," and that they would therefore be "withdrawing our support and have requested a full refund of our contributions, which were made months in advance of the senator's comments."
Numerous people took to Twitter to criticize other companies who invested and promoted the Senator's campaign. After actress Debra Messing called out Walmart for their contributions, the company responded in a Tweet saying that they would also be pulling out their resources.
Hi Debra. Completely understand your concern. Sen. Hyde-Smith's recent comments clearly do not reflect the values of our company and associates. As a result, we are withdrawing our support and requesting a refund of all campaign donations.

— Walmart (@Walmart) November 20, 2018
Other big name companies including AT&T and Leidos followed suit and formally requested a full reimbursement for their donations, costing the campaign thousands of dollars coming in to the most crucial point of the already heated race.
Despite the fallout, the Senator still has powerful allies, including her largest campaign contributor: former Facebook president and Napster founder Sean Parker. While a spokesman told the DailyBeast that Parker finds the remarks "reprehensible", he has not decided to withdraw his financial support, sparking criticism. It is worth noting that Parker's contribution was to the Mississippi Victory Fund backing the campaign rather than the candidate herself as in other cases.
Hyde-Smith has yet to respond to the latest round of backlash, and continues to publish hardline Tweets targeting her Democratic opponent.
Espy's Lie: Espy says he worked on agricultural issues for Ivory Coast.

The Truth: Espy's "agriculture clients" enslaved children in Ivory Coast. https://t.co/LajIlKuwJS#MSSen

— Cindy Hyde-Smith (@cindyhydesmith) November 21, 2018
During a debate on Tuesday, she apologized "for anyone offended by my comments," but then continued to defend herself saying that her words "were taken and twisted and used as a political weapon by my opponent."

If you like this story, share it with a friend!
Via RT. This piece was reprinted by RINF Alternative News with permission or license.