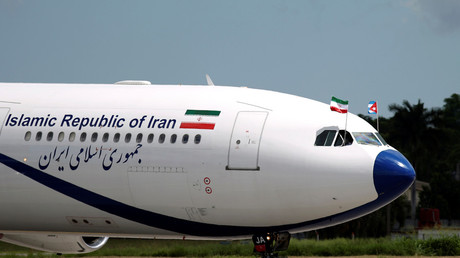 The US Treasury Department has hit Iran with new and heavy sanctions. They target several Iranian airlines that the US claims were delivering weapons to proxy forces in Syria and Lebanon.
Iran will be "battling to keep its economy alive" after the latest sanctions, US Secretary of State Mike Pompeo said in a speech in Washington on Monday.
Pompeo demanded that Iran halt all uranium enrichment, stop its ballistic missile program, and give nuclear inspectors access to the entire country, or else face the "strongest sanctions in history."
Iranian President Hassan Rouhani called the US demands unacceptable, and an Iranian Revolutionary Guards commander told Iranian media that the people of Iran should "deliver a strong punch to the mouth" of Pompeo in response.
The Trump administration's renewal and strengthening of sanctions on Iran is part of a new and hardline stance on the Islamic Republic. Last month Trump withdrew the US from the JCPOA, or Iran Deal, which granted Iran sanctions relief in exchange for a halt in its nuclear program.
Via RT. This piece was reprinted by RINF Alternative News with permission or license.