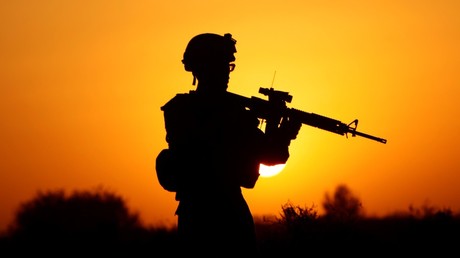 A California teacher filmed describing US military personnel as "dumb s**ts" in an astonishing rant has been fired. The decision to sack Gregory Salcido came after a vote by El Rancho Unified School District Board.
Pending a successful appeal, Gregory Salcido, a Pico Rivera City council member and teacher, will not be allowed to return to his position at the school. It comes after the California school board voted unanimously on Tuesday to oust Salcido for comments he made to students about the US military last January, reports the Los Angeles Times.
In a secretly-recorded video on January 26, Salcido reportedly described US military personnel as the "lowest of our low" in terms of intelligence. He also joked about previous military campaigns and the US armed forces' inability to "beat the Vietnamese" during the infamous land war in Asia.
READ MORE: Exclusive: Teacher speaks to RT about her viral 'rant' against Tory education cuts
"We have all these freaking night vision goggles and stuff, and we can't freaking control these dudes wearing robes and chanclas [sandals] because we have a bunch of dumb s**ts over there," Salcido said at the time. "Think about the people who you know are over there. Your stupid uncle Louis or whatever, dumbs**ts."
"They're not like high level bankers, they're not academic people, they're not intellectual people –  they are the lowest of our low. Not morally, I'm not saying they make bad moral decisions [but] they're not talented people," he can be heard saying.
"The data is in, we don't have a good military.  We haven't been able to beat these people wearing robes and chanclas for 15 years. We couldn't beat the Vietnamese, they're a bunch of people this freaking big, throwing rice at us. We haven't been able to beat anyone since World War II."
Salcido later apologized for his comments but doubled down on his suggestion that "those who aren't stellar students usually find the military a better option."
READ MORE: 'Get ready to die': TV producer threatens family in explosive rant (VIDEO)
Board of Education President Aurora Villon informed the public of the decision to a round of  applause. She had earlier spoke of the El Rancho Unified School District as being "swamped with controversy" after Salcido's comments became public.
"The superintendent has recommended disciplinary action including termination of the employment based on the investigation. The board of trustees has voted to take action as recommended," Villon said. "His [Salcido] comments do not reflect what we stand for, who we are. The classroom should never be a place where students feel that they are picked at, bullied, intimidated."
RT.com has contacted Salcido for comment.
Via RT. This piece was reprinted by RINF Alternative News with permission or license.