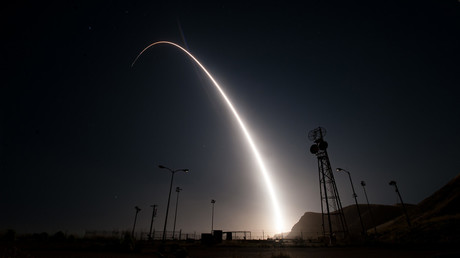 A Minuteman III intercontinental ballistic missile test ended in failure when the projectile was ordered to self-destruct due to an "anomaly" that developed during the flight, the US Air Force has confirmed.
The test missile, minus the nuclear warhead, was launched early Tuesday morning from Vandenberg Air Force Base in California. The self-destruct signal was sent at 0442 Pacific time (1142 GMT).
No details were made available as to what exactly happened to warrant the self-destruct signal.
A Minuteman III ICBM was destroyed at 1142 UTC this morning shortly after launch from Vandenberg AFB following some kind of malfunction. The launch was a regular test aimed at Kwajalein in the Pacific.

— Jonathan McDowell (@planet4589) July 31, 2018
"An anomaly is any unexpected event during the test," the Air Force's Global Strike Command said in a statement. "Since anomalies may arise from many factors relating to the operational platform itself, or the test equipment, careful analysis is needed to identify the cause."
A "launch analysis group" set up to investigate the failure will include representatives from the Global Strike Command, the 576th Flight Test Squadron, the 30th Space Wing and the Air Force Nuclear Weapons Center.
Tuesday's test was part of a regular readiness check-up on the primary US land-based nuclear missile, which first came into service in 1962. The most recent test was in April, and had been postponed due to tensions with North Korea. This is the first test failure since a July 2011 launch, and the third failure since 1998.
Minuteman III test-launch scheduled this morning from Vandenberg AFB. There are 400 ICBMs in 450 silos. Each carries one 335kt Mk12A/W78 or 300kt MK21/W87 warhead. Those with Mk12A can increase to 2-3 MIRV. Will be replaced with GBSD from 2030. https://t.co/Nv3s362yj4pic.twitter.com/0M8h4a6b0C

— Hans Kristensen (@nukestrat) July 31, 2018
The US has around 400 Minuteman III weapons deployed in silos at three bases in Montana, North Dakota, and Wyoming. Random missiles are selected for the tests every few months, stripped of their nuclear payload and fitted with testing equipment that enables the Air Force to monitor the test progress and, if needed, issue the self-destruct command.
Like this story? Share it with a friend!
Via RT. This piece was reprinted by RINF Alternative News with permission or license.