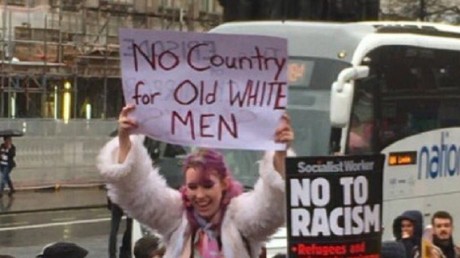 A placard targeting "old white men" which was held up by a woman at a march in London has been reported as a hate crime by a member of UKIP.
Angered UKIP Assembly group leader Peter Whittle shared the image on Twitter. The picture shows a woman with pink hair sitting on a man's shoulders at a protest march in the British capital, holding up a sign which reads: "No country for old white men."
Whittle said on Twitter: "I wish to report this placard, photographed at the Women's March in Whitehall London on January 21st, as a possible hate crime @MetCC."
'Snowflake students' get University to apologize for calling snow white
Supporters of the UKIP spokesman and think tank director congratulated the find, but warned he would not be taken seriously. One wrote: "Poor delicate snowflakes," while another said: "Yes peter go for it."
The Metropolitan Police contact center did take an interest, however. A later tweet asked Whittle, a London Assembly member, to send them a message in private so they can "discuss this further."
Via RT. This piece was reprinted by RINF Alternative News with permission or license.