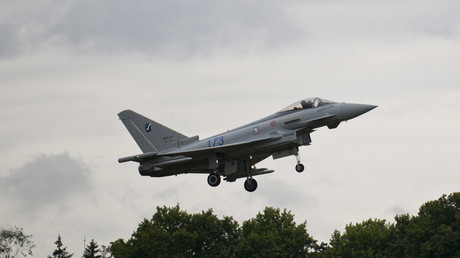 The UK's Royal Air Force says it has launched two Romania-based Typhoon fighter jets, responding to a Russian bomber that was spotted heading towards NATO airspace, over the western Black Sea.
The jet took off from Romania's Mihail Kogalniceanu Air Base on the coast of the Black Sea to scramble the Russian Su-24 FENCER aircraft. The Russian fighter plane was monitored by two Typhoon pilots from the 135 Expeditionary Air Wing (EAW), in accordance with the NATO Enhanced Air Policing (EAP) mission the RAF is conducting in Romania.
One of the RAF's typhoon pilots from the 1 (Fighter) squadron said that they were "vectored toward the unknown Russian aircraft who were close to infringing NATO airspace," before adding that the Russian aircraft did not enter it. "We were ordered to patrol the skies for a short period of time as a deterrent, until finally returning to MK Air Base," the pilot said.
DETAILS TO FOLLOW
Via RT. This piece was reprinted by RINF Alternative News with permission or license.