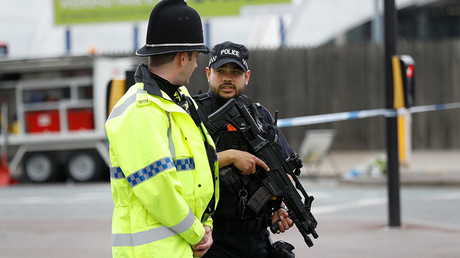 UK police have stopped sharing information about the Manchester terrorist attack with the US, following a series of leaks to media outlets, the BBC reports.
Greater Manchester Police will no longer share security information about the attack and investigation. Citing unidentified sources, the BBC reports UK officials are outraged, while the police are "furious" with the US leaking to the press.
Prime Minister Theresa May was due to chair a meeting of Cobra, the government's emergency response committee, on Thursday morning, a spokesman for her office said, according to Reuters. Later on Thursday, May will reportedly raise the issue of the leaks with US President Donald Trump at a NATO meeting in Brussels.
The investigation into the suicide bomb that killed 22 and injured 59 at an Ariana Grande concert in Manchester is ongoing, with police making two more arrests on Thursday morning.
Forensic crime scene images showing fragments from the bomb as well as a backpack allegedly used to carry it appeared in the New York Times on Thursday, and were picked up by other media outlets.
Hours before the latest leaks were published in the New York Times, UK Home Secretary Amber Rudd said she had "been very clear with our friends that should not happen again," after the first set of leaks to the US press, which included details about the death toll and the bomber's name, which the police had not been planning to release at that stage.
A government source told the BBC the leaks were "on another level" and had caused "disbelief and astonishment" within the government.
The UK's National Police Chiefs' Council slammed the "unauthorised disclosure" and said it was a breach of trust that undermines a "major counter-terrorism investigation."
The father and brother of suicide bomber Salman Abedi were arrested in Libya on Wednesday.
Via RT. This piece was reprinted by RINF Alternative News with permission or license.