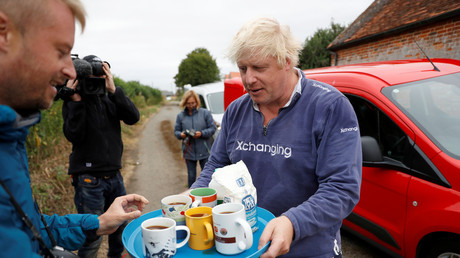 Former UK Foreign Secretary Boris Johnson found a novel way to avoid answering journalists' questions about controversial comments he made comparing Muslim women wearing the burka to postboxes and bank robbers.
Approaching the journalists waiting outside his home in Oxfordshire, tray in hand and wearing a pair of blue surfer shorts, Johnson said he had nothing say on the matter, but wanted to offer the reporters some refreshments instead.
"I'm here solely on a humanitarian mission because you've been here all day and you've been incredibly patient and I feel very sorry for you because I have nothing to say about this matter except to offer you some tea," he said.
Instead of calling it out as the stunt that it clearly was, the waiting British journalists lapped it up, literally, accepting the tea from Johnson, engaging in a bit of banter with the controversial politician and forgetting all about the reason they were outside his house in the first place.
"Okay, thank you. Thank you so much," one journalist can be heard saying in response, while grabbing her cup of tea and forgetting to ask any more questions.
When the video was posted online, ITV journalist Carl Dinnen tweeted that if a politician was going to refuse to answer questions, offering tea instead was "the classy way" to do it.
Unsurprisingly, the fawning behavior of the British press didn't go down very well with the rest of Twitter, where Dinnen and his colleagues were roasted for their submissiveness and sycophantic behavior.
One user pointed out that there was a huge chasm between British journalists' self-image as "bellicose and combative" seekers of truth and the the "fawning reality" on display in the video.
Others pointed out that the appropriate response from a journalist to a figure like Johnson trying to dodge important questions was definitely not: "Thank you very much."
Others suggested that Labour Party leader Jeremy Corbyn, who does not have many fans among the British press, should start offering journalists cups of tea instead of answering questions to see if it makes any difference.
…and some just had a bit of fun with the incident, reimagining the infamous David Frost interview with Richard Nixon over the Watergate scandal and how it might have gone differently if Nixon had just offered the journalist some tea.
Via RT. This piece was reprinted by RINF Alternative News with permission or license.