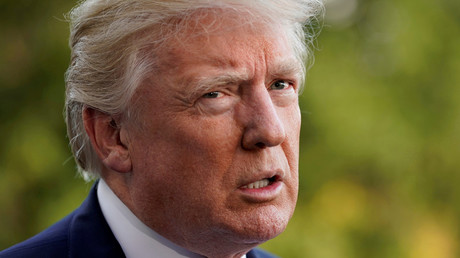 From delight in Castro's demise to passive-aggressive New Year's messages, Donald Trump's first year as tweeter-in-chief has been anything but uneventful. On the anniversary of President Trump's election, RT.com looks back on his most popular tweets.
1. Manhandling CNN
Trump launched several attacks on networks such as CNN, NBC and others since the beginning of his presidency. However, for some, he overstepped the mark when he tweeted this short video of himself body-slamming a man with the CNN logo superimposed on his head.
READ MORE: Trump lays the smackdown on CNN in bizarre tweet (VIDEO)
The video, which earned around 364,000 retweets and nearly 600,000 likes, was taken from a 2007 World Wrestling Entertainment (WWE) event at which Trump, acting in one of the show's storylines, manhandled WWE Chairman Vince McMahon.
"It's a sad day when the President of the United States encourages violence against reporters," CNN said in a statement.
2. Election day message
Fans of the then-Republican candidate hit the retweet button around 333,000 times as Trump once again delivered his campaign slogan on election day last November. With campaigning done, the billionaire property tycoon seemed buoyant on social media as he urged his supporters to get to their polling stations – but perhaps not even he could not have expected the shock that was to come.
3. Victory message to voters
In the aftermath of his victory, Trump's promise to bring people "together as never before" stands in sharp contrast to the divisive messaging that characterised his campaign and much of his presidency up to now – although the brief summoning of a presidential tone garnered more than 213,000 retweets and around 617,000 likes.
4. 'Happy New Year'
The president took care to include his "many enemies" in his tweet, wishing everyone a happy New Year last December. The message, which was retweeted more than 136,000 times, was consistent with tweets sent by Trump during holiday seasons in 2013, when he, too, mentioned his many enemies, and in 2014, when he sent good wishes to the "haters and losers."
5. The great 'covfefe' mystery
It could simply have been a message sent prematurely after a slip of his infamously small fingers, but the truth is that no-one really knows. Regardless, in one Trump tweet, "covfefe" was born.
READ MORE: Trump tweet mystery: President's #Covfefe message triggers troll tsunami
Sent just after midnight in Washington, Trump seemed to be starting another attack on the media when he the word slipped in at the end of the sentence. It was then posted and remained online without comment or clarification until it was deleted at 6am. In that time it had generated more than 120,000 retweets and 160,000 likes.  
The mystery became a viral sensation, providing hilarious comic fodder for online trolls.
6. Fidel Castro is dead!
Trump's odd tweet about the death of the former Cuban leader Fidel Castro was mocked at the time, with some Twitter users pointing out that the news had been known for hours before the US president put his fingers to his unsecured Android phone.
READ MORE: US mulls embassy closure in Cuba with historic thaw in relations under threat
Nevertheless, his message that "Fidel Castro is dead!" became his sixth most popular tweet with more than 95,000 retweets and 203,000 likes.
Via RT. This piece was reprinted by RINF Alternative News with permission or license.