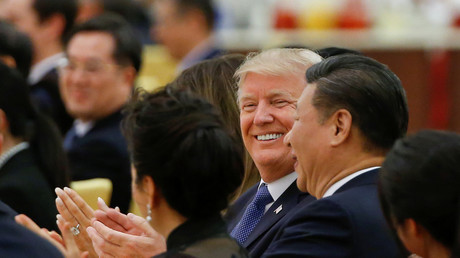 Going into the holiday season, Trump wanted to see some optimism and pulled back on his aggressive stance with China, but in 90 days it could be back, Jeffrey Tucker from American Institute for Economic Research told RT.
President Donald Trump took to Twitter on Tuesday to say that the US has begun negotiating a new trade deal with China, adding that both he and Xi Jinping want the talks to be a success. It came two days after the leaders met in Buenos Aires where they attempted to put an end to their countries' ongoing trade war.



Also on rt.com
'I am a tariff man': Trump warns China against raiding 'great wealth' of US as trade talks start




RT: Judging by what both American and Chinese officials have said since Trump-Xi meeting, it seems no deal has been reached yet. How would you interpret Trump's tweet?
Jeffrey Tucker: Trump clearly blinked in his negotiations with China and that is for a reason. That is because everything he promised would happen with his trade war stuff, has not happened. It actually seriously harmed American exporters.
We've seen American car plants actually shut down, that sent a lot of panic and shock waves to the White House.
Especially, concerning US auto industry. I think this is a kind of a propaganda move by the US president to claim that he was somehow pulling a victory here. But I don't think it is true. I like to think that he is pulling back in the trade war. But it doesn't seem true. He has sent a tweet in which he called himself a "tariff man." 
….I am a Tariff Man. When people or countries come in to raid the great wealth of our Nation, I want them to pay for the privilege of doing so. It will always be the best way to max out our economic power. We are right now taking in $billions in Tariffs. MAKE AMERICA RICH AGAIN

— Donald J. Trump (@realDonaldTrump) December 4, 2018
 …He seems to be under the impression that foreign nations pay US tariffs which obviously is incredibly untrue. And he seems to think that tariffs are a cause of the economic growth which every economist knows to be untrue. It is baffling, this guy.
He has got this funny ideology that is almost medieval and it is mercantilism. This really has nothing to do with the modern world. My fear is what is really happening here is that he wanted to calm down the financial markets that were very much punishing that trade war that is punishing so many people.
Going into the holiday season he wanted to see some optimism, so he pulled back on his aggressive stance with China. And sure enough the markets grew. But being a man with a sizeable ego, he decided to make it clear that he still very much believes in protectionism. And this tweet shows that.
My worry is that 90 days from now we are going to be back at it again. And the tariff war with China is going to pick up all over again. 



Also on rt.com
Trump: China should use death penalty for distributors of Fentanyl, 'results will be incredible'




RT: Do you think Washington and Beijing will actually manage to strike a comprehensive trade deal?
JT: I don't think it is likely. From my reading of the situation, Washington is being hawkish, and Beijing is being dovish. I think Beijing might be willing to dramatically lower tariffs for US car imports. I don't think it is going to make a bit of substantive difference in the amount of American cars that Chinese people are going to buy from Washington. 98 percent of Ford's cars that have been driven by Chinese today are built in China.
That is the way the world is working. In the same sense that German cars are made in America, most American cars that are marketed to China are built in China. I don't think it is going to make any difference even if the tariffs go to zero. Maybe from Trump's point of view there is going to be a political propaganda victory. But substantively it is not going to make any difference.
Like this story? Share it with a friend!
Via RT. This piece was reprinted by RINF Alternative News with permission or license.