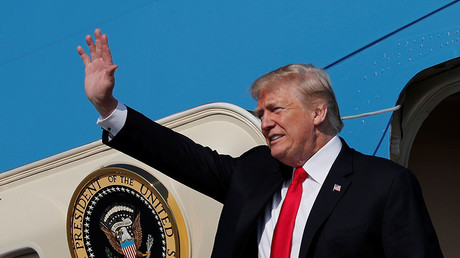 President Donald Trump's token presidential "challenge coin" is a radical departure from his predecessors, replacing the national motto with "Make America Great Again." And Some on Twitter could not contain their anger.
Trump was reportedly personally involved in the design of the collectible coin, which replaced the national motto, "E Pluribus Unum" with his trademark "Make America Great Again" campaign slogan. Designers of the new coin also dropped the traditional presidential seal, in favor of a picture of the White House.
The challenge coin is now gold, as opposed to the traditional copper and silver coins which former presidents have gifted. Trump's version also has a ribbon-shaped add-on along the bottom, where his name is inscribed. The token has an American flag on one side and an image of a bald eagle on the other. None of the design's detractors on Twitter, however, complained about the lack of a red "Make America Great Again" cap on the bald eagle's head.
READ MORE: Trump administration considers plan to separate families caught entering US illegally – reports
Author Steve Silberman seemed shocked at the changes. 
Oh. My. F*cking. God. Trump replaces "E pluribus unum" on presidential coin with "Make America Great Again" and his name in huge letters. https://t.co/DVfPBBUwyP

— Steve Silberman (@stevesilberman) December 22, 2017
Author and equal rights advocate, Amy Siskind, also appeared to be upset at the radical design overhaul. 
Trump won't stop until he drains every last ounce of dignity from our great country!
"the national motto, 'E pluribus unum'…is gone. Instead, both sides of the coin feature Trump's official campaign slogan, 'Make America Great Again'"" https://t.co/GWVdiHKGAV

— Amy Siskind (@Amy_Siskind) December 22, 2017
A self-described health advisor and advocate blasted Trump's changes to the non-legal tender coin. 
READ MORE: Trump blasts 'dysfunctional' immigration system and 'fake news' at FBI Academy
The commemorative coins are derived from the military tradition of exchanging coins in a covert manner, through a handshake. Presidents have, in the past, given them to troops, visitors and other members of the public. The coins have now become collectors items, and are sometimes sold for hundreds of dollars.
Via RT. This piece was reprinted by RINF Alternative News with permission or license.