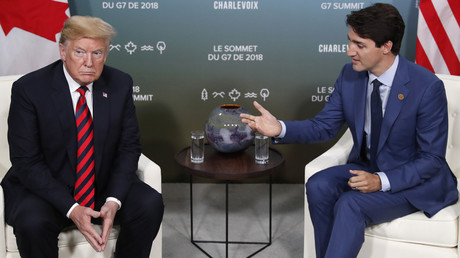 Hours after the G7 summit, US President Donald Trump is attacking Canadian Prime Minister Justin Trudeau again for "false statements," and he is refusing to endorse the summit's communique that called for reducing tariff barriers.
On Saturday, Trump lapsed into his pre-summit rhetoric again, calling Trudeau "dishonest and week" in a fresh series of angry tweets. He reiterated that the recently imposed US tariffs on metal imports from Canada and other nations are a response to what he believes is trade inequality.
PM Justin Trudeau of Canada acted so meek and mild during our @G7 meetings only to give a news conference after I left saying that, "US Tariffs were kind of insulting" and he "will not be pushed around." Very dishonest & weak. Our Tariffs are in response to his of 270% on dairy!

— Donald J. Trump (@realDonaldTrump) June 9, 2018
Trump lashed out at "Justin's false statements" at a press conference following the summit. There, Trudeau repeated his earlier description of US trade tariffs as "insulting" and vowed retaliatory measures would come in July.
Based on Justin's false statements at his news conference, and the fact that Canada is charging massive Tariffs to our U.S. farmers, workers and companies, I have instructed our U.S. Reps not to endorse the Communique as we look at Tariffs on automobiles flooding the U.S. Market!

— Donald J. Trump (@realDonaldTrump) June 9, 2018
A few minutes later, Trump changed his Twitter profile header picture from the G7 family photo to a photograph of himself singing the anthem with members of US military in Atlanta in January this year – apparently another jab at his summit-mates, considering how far back he had to dig to find that one.
"We strive to reduce tariff barriers, non-tariff barriers and subsidies," the post-summit statement by the G7 leaders, which was released about an hour before Trump's fresh rant, read. For that hour, it seemed like a step toward reconciliation: French President Emmanuel Macron, also at dagger's point with Trump over tariffs, called the document "good news," though on a more cautious note he added: "Nevertheless, I do not consider that with a declaration all is obtained and it is obvious that we will have in the coming weeks, the next months, to continue to work."
On Twitter, the French leader was more assertive about the summit's success, claiming that "our exchanges have made it possible to restore the truth over trade between Europe and the United States."
Before Trump's turnaround, British Prime Minister Theresa May, who Trump snubbed at the summit, strove to reinforce the image of the "special" US-UK relationship. "We work closely with President Trump, and the UK has a very good relationship with the United States," she said, noting that the two-day summit was filled with "some difficult discussions and strong debate."
Via RT. This piece was reprinted by RINF Alternative News with permission or license.