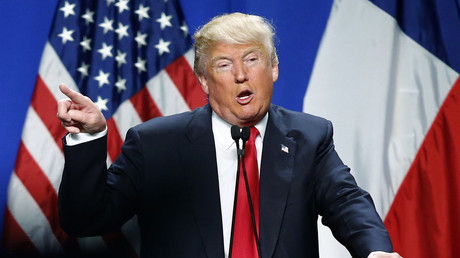 US Republican candidate has been forced to delete a tweet showing an image of Hillary Clinton in front of a pile of money and a six-pointed star after a barrage of accusations of anti-Semitism.

The original tweet showed Democratic presumptive presidential candidate Hillary Clinton with the words "History Made" and "Most Corrupt Candidate Ever!" The second phrase was placed in within a six-pointed star text box.
Immediately after the publication of the tweet, social media users bombarded Trump with criticism. 
READ MORE: Clinton tells Trump to delete his Twitter account 
Trump was accused for using what looked like a Star of David along with Clinton's image in front of a pile of cash. "THIS is textbook anti-Semitic imagery," said one of the Twitter users. 

That Trump's ad using a Star of David happened to run the same day Elie Wiesel died further proves what an absolute piece of shit Trump is.

— DJ T-Lizard (@SethFromThe716) July 3, 2016
Clinton's national spokesman Josh Schwerin responded to tweet by asking: "Why is there a Star of David?"
Clinton's economic policy adviser Michael Shapiro was more direct, and tweeted out: "This new divisive dogwhistle isn't [a] surprise."

Soon after, Trump reacted by deleting the original tweet and publishing something similar. The new tweet had all the similar characteristics, but it substituted the six-pointed star with a circle.
However, the new tweet included Trump's constant repetition of the phrase, "America first" – making things worse, as it echoed anti-Semitic rhetoric dating back to WWII. 
@RoteCaption '"America First" in Trump's Star of David replacement tweet is a nod to 1940s anti-semitic group '

— Paul Town (@PaulTown_) July 3, 2016
READ MORE: Trump Unhinged: Satirical series shows 'sheer ridiculousness' of The Donald (VIDEOS)
Trump's controversial campaign has been making headlines since it started. Some of his foreign policy pledges include dismantling NATO and completely banning Muslim immigration into America.
In the past he also stated that more countries, such as Japan, South Korea and Saudi Arabia, should have nuclear weapons.
READ MORE: 'This is not a reality show': Obama urges MSM to scrutinize Trump (VIDEO)
In May, US President Barack Obama called on the mainstream media to hold Donald Trump to account by reporting seriously on the candidate without being distracted by "the circus and the spectacle."
Via RT. This piece was reprinted by RINF Alternative News with permission or license.