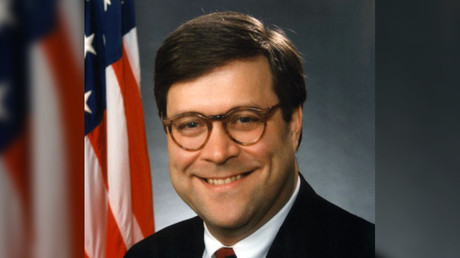 US President Donald Trump has confirmed that he will nominate frontrunner William Barr as his new attorney general to replace the outgoing Jeff Sessions.
"He was my first choice since day one," Trump told reporters at the White House Friday. "He'll be nominated."
Barr previously served as Attorney General from 1991 to 1993 during the administration of recently deceased former President George H. W. Bush.
Once appointed, Barr will oversee Robert Mueller's ongoing Russia inquiry following Jeff Sessions' unceremonious firing and the appointment of the probe's well-known critic Matthew Whitaker as acting attorney general.



Also on rt.com
Trump nominates ex-TV host Nauert with limited political experience to be next UN envoy




Both Barr and Whitaker have publicly expressed skepticism over the investigation into alleged Russian collusion, with Barr going so far as to advocate for a criminal investigation into former presidential candidate and Secretary of State Hillary Clinton.
In addition, Barr has been critical of the Mueller investigation, stating that the team lacks balance.
"In my view, prosecutors who make political contributions are identifying fairly strongly with a political party," Barr said as cited by the Washington Post. "I would have liked to see him have more balance on this group."
He also defended Trump's decision to fire former FBI Director James Comey saying it was "the right call."
Trump hinted that further new appointments can be expected in the coming days before he takes an extended vacation at his Mar-a-Lago resort in Florida for the holidays.
As Kelly is about to depart, Trump drops this clue in his ongoing reality show, via pool: "I have another one for tomorrow that I'm going to be announcing at the Army-Navy game. I can give you a little hint: It will have to do with the joint chiefs of staff and succession."

— Maggie Haberman (@maggieNYT) December 7, 2018
Barr has previously shown an aversion to heavy-handed government regulation, especially in the infamous GTE Corporation case against the federal government in which Barr was accused of waging "holy war" over the implementation of the Telecommunications Act of 1996.
"I'm not a bomb thrower by any means," Barr said in an interview after delivering his 40-minute argument, "but my basic philosophy is that you don't get anywhere by kowtowing to regulators."
Think your friends would be interested? Share this story!
Via RT. This piece was reprinted by RINF Alternative News with permission or license.