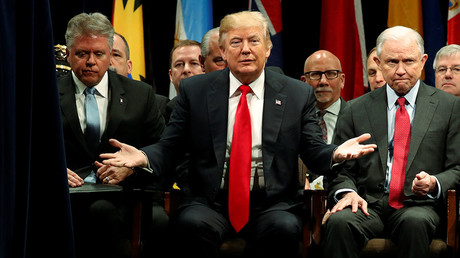 President Trump has bashed the US 'dysfunctional' immigration system and 'fake news' in an address at FBI's National Academy, in which he refrained from disparaging the agency, though he had previously criticized it as "a shame."
In his address, Trump attacked the US lottery visa immigration system, claiming other countries "give us their worst people" and he again called on Congress to replace it with a merit-based system.
At Quantico, Pres. Trump tells @FBI Academy graduates: "Criminals who kill Police officers should get the Death penalty". "With me as your president America's police will have a true friend & loyal champion in the White House — more loyal than anyone else can be." pic.twitter.com/0czIzexZ9p

— Edward (@DonKlericuzio) December 15, 2017
The president also pledged to arrest, jail and deport MS-13 gang members. "We will throw you the hell out of the country," he told a cheering audience of FBI cadets and veterans.
Trump also called for the death penalty for "criminals who kill police officers."
The heroic FBI agents protecting us from dangerous Trump applaud wildly at dear leader's call for more death penalty.

— jeremy scahill (@jeremyscahill) December 15, 2017
He again attacked some media outlets as "fake news", claiming 70 percent of media outlets fall into this category.
"You see there's the fake news back there. Fake news. No, actually some of 'em are fine people…about 30 percent."

— Steve Herman (@W7VOA) December 15, 2017
Despite criticizing the FBI to reporters outside the White House on his way to the event, Trump sought to reassure the law enforcement officials at hq that they had his full support. "They're totally under-appreciated, except by me," Trump said, adding "you represent the best of America."
"It's a shame what's happened with the FBI," he told reporters. "You have a lot of very angry people that are seeing it."
He vowed that "we're going to rebuild the FBI" and, after describing "really, really disgraceful" documents, which were reportedly about the revelation that two FBI agents, who were working for the Trump-Russia collusion probe, had exchanged dozens of venomous text messages on politics, including calling the then-candidate Donald Trump "a loathsome human."
Via RT. This piece was reprinted by RINF Alternative News with permission or license.