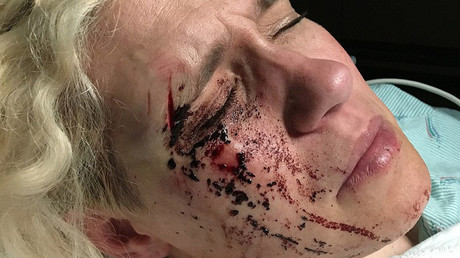 In a horrific turn of events, a transgender person who had just shown support for the Orlando shooting victims at a fundraiser became a victim themselves. The FBI and Seattle police are investigating the attack as a hate crime.
Police said the victim, 36-year-old Michael M. Volz ‒ who prefers not to be identified by a gendered pronoun ‒ had just left the fundraiser on Capitol Hill, Seattle, on Wednesday night when they were approached by a man in his 20s who said, "Hey, happy Pride," then punched the victim in the face with a closed fist.
The man then grabbed Volz by the throat to choke the victim, hit Volz four to five times on the face, grabbed Volz's crotch, and yelled a transgender slur. Volz lost consciousness during the assault from the chokehold, and the suspect fled the scene, according to police.
On regaining consciousness, Volz was able to drive home and contact friends who drove Volz to the hospital. Police said the right side of Volz's face was covered with blood, with lacerations and bruising on the right cheek and right eyebrow. They had stitches to their eyebrow and has abrasions and lots of bruising to their face and neck.
"I'm disgusted by this hateful attack," Police Chief Kathleen O'Toole said in a statement. "I want to assure the victim and the community that the Seattle Police Department will leverage every resource to identify the suspect and bring him to justice."
Police described the attacker as a white man in his 20s with brown hair and a partial beard. He was wearing an orange or copper-colored sweatshirt, blue jeans and sandals during the attack.
Friends and supporters are help raising money for Volz with a crowdsourcing GoFundMe campaign. The goal is to raise $32,000; so far they have brought in over $24,000. The campaign site includes graphic photos of the injuries the victim sustained.
The city of Seattle celebrates its Pride festival this week, and the police department is increasing its visible presence at the weekend events downtown and at Capitol Hill.
The fundraiser that Volz attended before they were attacked was intended to raise money for those affected by the June 12 massacre at the Pulse nightclub in Orlando, when shooter Omar Mateen killed 49 people and left dozens of others injured.
Via RT. This piece was reprinted by RINF Alternative News with permission or license.