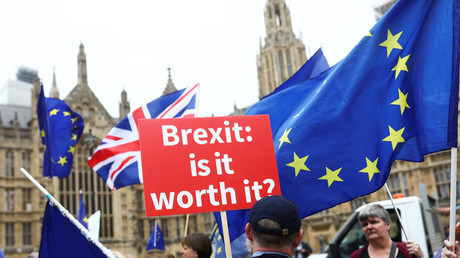 Tory Remain MPs who had threatened to rebel against the UK govt on the amendment for a 'meaningful vote' on the final terms of the Brexit deal have succumbed to late concessions – leading to the govt winning the vote 319 to 303.
In bizarre scenes, even for the House of Commons, the de-facto leader of the Tory Remain 'rebels', Dominic Grieve MP for Beaconsfield, used his debating time on the 'meaningful vote' to say that he would not be voting for his own amendment, but still insisted it should be put before the house to be voted on. Grieve then voted against his own motion, according to the Labour Whips twitter account. 
"I am prepared to accept the government's difficulty and in the circumstances to accept the form of amendment it wants," Grieve told MPs. This was met with sighs of exasperation from opposition Labour Party members who were aiming to defeat the government.
Grieve's apparent capitulation to his government's proposals, that says parliament may not get the chance to amend the final deal on Brexit, but the speaker may rule to allow a meaningful vote, has hastened ridicule on social media from political journalists and MPs.
The Daily Mirror's Kevin Maguire was of the opinion that the so-called 'rebels' had conceded to easily to May's wishes. He tweeted: "Rebels without a backbone as Dominic Grieve waves his white flag and surrenders. Theresa May lives to stumble another day."
The Liberal Democrats, Layla Moran, MP for Oxford West and Abingdon likened Grieve's retreat to "the Grand Old Duke of York". She said: "Looks like he is conceding to the government because of PM's anxiety over losing the vote. He marched them up to the top of the hill then he marched them down again."
In a vote the government were determined to win, they were criticised for the lengths they were going to, to claim victory and safeguard, for now, May's plans for Britain exiting the EU at the end of March 2019. Labour's Tracy Brabin, MP for Batley and Spen spoke of a Labour colleague having to resort to being wheeled through the lobby in a wheelchair to enable them to vote.
She tweeted: "Govt whips refuse to nod through a v poorly @UKLabour colleague in #MeaningfulVote so they've had to push them through the lobby in a wheelchair – hard and cruel #NastyParty."
Not all Tory Remain MPs voted with the government. It's been reported that Anna Soubry, father of the house, Ken Clarke and the tallest female MP, Antoinette Sandbach all voted for Grieve's amendment.
The prime minister may have won today's Brexit battle, but there are many more hurdles for her to tackle. She needs to get several more bills through parliament to achieve the Brexit deal her government seeks.
READ MORE: Grassroots or 'astroturf'? Who's really behind the anti-Brexit group 'Our Future Our Choice
It may be a case of some of her opponents on Brexit, on both sides of the EU debate having simply decided to allow the PM an easy ride for now, but will be prepared to fight their corners on issues such as future trading ties with the bloc before Britain departure in March 2019.
However the Tory rebels' action today to concede has left a bitter taste in the mouth, particularly for those hoping for a people's vote on the final terms of a Brexit deal or even a second referendum.
Omar Baggili, RT Journalist
Like this story? Share it with a friend!
Via RT. This piece was reprinted by RINF Alternative News with permission or license.