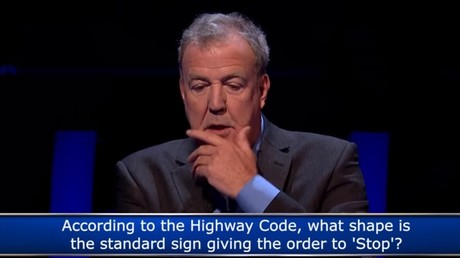 Jeremy Clarkson inspired a collective cringe in his new role as host of the game show Who Wants to be a Millionaire when he struggled to recognise the shape of a stop sign.
A new feature of the popular quiz show gives contestants the chance to 'ask the host' for help if they are stuck on a question. When contestant David was flummoxed about the classic shape of an official stop sign, he probably thought it was a safe bet to ask the host for assistance – although he did choose to phone a friend before turning to Clarkson.   
READ MORE: Man clings to car hood as Turkish floodwaters sweep vehicle away (VIDEO)
Clarkson fans are used to seeing him talk about everything motor-related throughout his 15 years as host of Top Gear, as well as on his new car show, The Grand Tour, so to see him stumped by such a simple road safety question came as a shock.
After pondering what the answer could be, Clarkson defended his ignorance on the shape of the familiar traffic signal, saying, "The Highway Code – it is 1977 since I looked at that."
Despite his lack of knowledge, he told the contestant the answer could be an octagon shape, which turned out to be the right call. The contestant went on to choose a 50-50 lifeline, where two of the four possible answers are removed, before picking octagon as his final answer.
Like this story? Share it with a friend!
Via RT. This piece was reprinted by RINF Alternative News with permission or license.