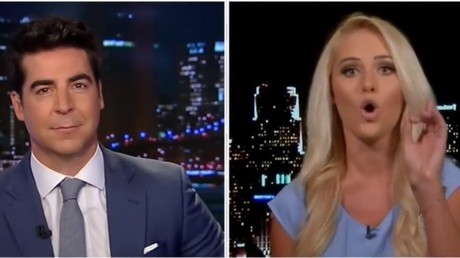 Fox News commentator Tomi Lahren's defense of John Kelly's racist comments about immigrants backfired spectacularly when her family tree revealed her ancestors were the exact sort of non-English speaking immigrants she so detests.
Lahren appeared on Fox News' 'Watters World' on Sunday to defend White House Chief of Staff John Kelly's comments during an interview with NPR about undocumented immigrants, who he said are "not people that would easily assimilate" into the United States.
"In the countries they come from, fourth-, fifth-, sixth-grade educations are kind of the norm. They don't speak English; obviously, that's a big thing," Kelly said, adding, "they don't integrate well; they don't have skills."
"These people need to understand that it's a privilege to be an American and it's a privilege that you work toward – it's not a right," Lahren told Fox's Jesse Watters.
"You don't just come into this country with low skills, low education, not understanding the language and come into our country because someone says it makes them feel nice. That's not what this country is based on. We believe in the rule of law and we believe in bringing the best people into this country to make it better."
Ummmm actually it is! Give me your tired, your poor, Your huddled masses yearning to breathe free, The wretched refuse of your teeming shore. Send these, the homeless, tempest-tossed to me, I lift my lamp beside the golden door! The Statue of Liberty-Ellis Island Foundation, Inc.

— Brian Worthy (@therealBworthy) May 13, 2018
Isn't that what conservative politics is based on? Utterly refusing to change or adapt? 🤔

— Alex Vickery-Howe (@AlexVickeryHowe) May 13, 2018
For more than 200 years that is EXACTLY what this country has been based on!!

— Paul Anderson (@f2photo) May 13, 2018
Genealogist Jennifer Mendelsohn looked into Lahren's own background and discovered that in 1930 Lahren's great-great-great grandmother had been living in the US for 41 years and still spoke German. Her great-great-grandmother spoke no English after 10 years in the country.
Except the 1930 census says Tomi's 3x great-grandmother had been here for 41 years and still spoke German.

Her 2nd great-grandmother had been here for 10 yrs. Spoke no English.

Her great-grandfather's 1895 baptism from MN? Recorded in Norwegian.#resistancegenealogy#receiptspic.twitter.com/rIySFu6fvL

— Jennifer Mendelsohn (@CleverTitleTK) May 13, 2018
I think all Americans appeared out of thin air, spun from whiskey and eagle feathers. My ancestors didn't immigrate here, they sprang from the center a pile of American flags, singing the National Anthem. I'm Tomi Lahren; hire me.

— Brooke Rogers 🌻 (@bkerogers) May 13, 2018
Earlier Mendelsohn exposed Kelly's family history, which was peppered with immigrants who didn't assimilate and learn English.
Deep dive tk, but here is the 1910 census showing Kelly's great-grandfather Giuseppe Pedalino and his second wife Concetta. (Kelly's great-grandma died in 1898.)

He was a wagon driver.
She was illiterate and could not speak English 10 years after arrival.#resistancegenealogypic.twitter.com/N9AfuLNvb1

— Jennifer Mendelsohn (@CleverTitleTK) May 11, 2018
Via RT. This piece was reprinted by RINF Alternative News with permission or license.