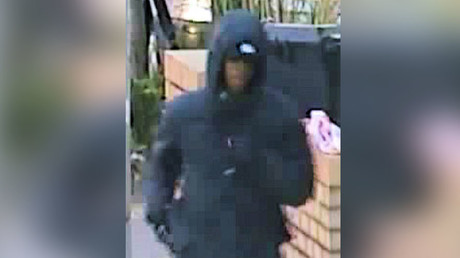 Three hooded thugs were caught on camera firing a shotgun at a young man on a quiet residential road in south London, in what police have called an "attempted murder."

CCTV footage from Marcella Road in Brixton shows the masked men turn the corner of the street around 7pm on May 12, before one whips out a sawn-off shotgun from a bag. He then passes the gun to his accomplice, who shoots a man in a white shirt and a boy crossing the road.
The images were shared by the Metropolitan Police's gang violence force Trident in the hope someone can identify the suspects.
"We are keen for the public to give us any information in relation to this appeal, who witnessed the incident or who recognizes the suspects", said Trident investigator Detective Constable Jo Ross. "It happened in broad daylight and in an area full of schoolchildren."
The victims were identified as a 21-year-old man who was shot through his chest, leading to a punctured lung and windpipe, and a 16-year-old who suffered minor injuries. The older man was taken to a local hospital and received immediate surgery. He was said to have made a full recovery. The schoolboy, who is believed to have been on his way to the library when he was shot, was taken to a hospital with a wound to his arm but was later discharged.
"The 21-year-old victim was fortunate to recover from what were potentially life-threatening injuries at the time of the incident. Other passersby were threatened by having a shotgun pointed at them – these are dangerous people," Ross added.
After the shooting the men fled the scene, covering their faces with hoodies and bandanas. The man still carrying the shotgun grabbed an unlocked bicycle and rode off, with his friends trailing behind. The three were also found in further CCTV images in which the shooter threatened further passersby with his gun. Both bystanders were mere feet away from the criminal.
The thugs were all said to be black men in their 20s, one of whom was wearing a dark hoodie with a large Franklin and Marshall logo, a fur-lined hat and a gray bandana.
Via RT. This piece was reprinted by RINF Alternative News with permission or license.