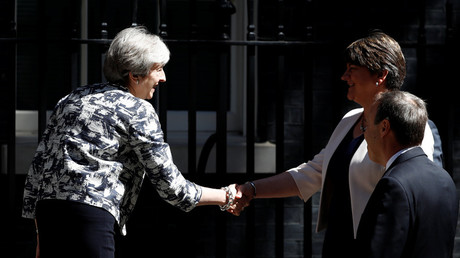 Prime Minister Theresa May has finally reached an agreement with the Northern Irish Democratic Unionist Party (DUP) allowing her to officially form a minority government.
May was pictured with the DUP leader Arlene Foster, while their respective Westminster chief whips, Gavin Williamson for the Conservative Party and Jeffrey Donaldson for the DUP, signed the deal.
The DUP took a total of 10 seats at the general election on June 8.
The Conservatives reduced their share in the House of Commons to 317, falling short of the 326 needed for a majority.
The Tories now hope to be able to pass policy through the Commons with the tactical support of the DUP.
The PM said the DUP and her party "share many values" and the agreement was "a very good one." Foster added she was "delighted" with the result of the two-party negotiations.
It is believed that a sum of £1 billion for confidence and supply was included in the deal.
If power-sharing is restored in Stormont, the Northern Irish devolved parliament, the DUP-Sinn Fein coalition would be responsible for the allocation of the extraordinary funds. The DUP said the cash would be spent on schools, hospitals and roads in Northern Ireland.
For the rest of the country, the deal meant that Tory plans to end the pensions triple lock and cut winter fuel payments have been scrapped.
"As we set out at the beginning of the talks, we share many values in terms of wanting to see prosperity across the UK, the value of the union, the important bond between the different parts of the United Kingdom," May said from Downing Street on Monday.
"We very much want to see that protected and enhanced and we also share the desire to ensure a strong government, able to put through its programme and provide for issues like the Brexit negotiations, but also national security issues."
Via RT. This piece was reprinted by RINF Alternative News with permission or license.