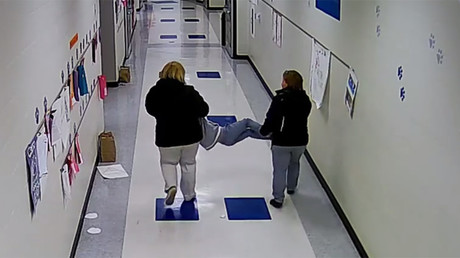 Two teachers are facing disciplinary action after they were caught dragging a seven-year-old autistic boy by the legs in school surveillance footage.
Corbin Kemle was reportedly misbehaving on the playground before the incident occurred at Crestline Elementary School in Ohio in May.
His mother, Bonnie McKean, released footage of the incident on Thursday, after the county prosecutor decided against pursuing felony charges on Wednesday.
McKean said she was "speechless" after watching the video of her son being dragged through the school.
In May, McKean received a call that her son Corbin couldn't stay at school as he was "having a rough day and was hitting, kicking and biting his teachers," McKean told RT.
She collected Corbin, but it wasn't until later that week that she found out the teacher and aide had been placed on administrative leave. Police then showed her the security footage.
The video shows Corbin being dragged inside the school and through its corridors. One of the adults holds his arms while the second holds him by the legs as he resists. Later in the video, Corbin can be seen being dragged on the floor by one of his legs.
Crestline Schools Superintendent Noreen Mullins told WJW the kindergarten teacher and aide were put on administrative leave as soon as the incident occurred.
The Crawford County Prosecutor's Office won't press felony charges against the two educators, but Prosecutor Matt Crall sent a letter to the Ohio Board of Education recommending it investigate aide Heather Gregory's and teacher Hannah Ruthe's actions.
Both must now have a "pre-disciplinary hearing," with their lawyers and the school district.
"Resigning is a possibility," Mullens said. "Usually it's an absence from the classroom, whether it's permanent or temporary."
"As parents, we are supposed to trust the school and its employees are doing their job and that our kids are being taken care of while they are there," McKean told RT. "I may never trust that again."
Via RT. This piece was reprinted by RINF Alternative News with permission or license.