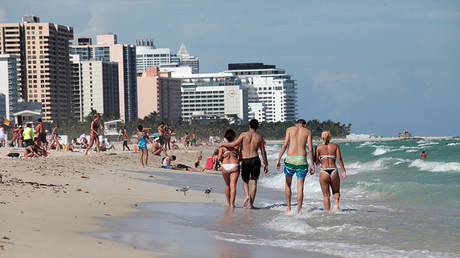 Florida Governor Rick Scott and the House of Representatives and are at each other's throats over a tourism dispute that began with a tax break given to rapper Pitbull for his "Sexy Beaches" music video.
A 10-5 vote led by Republicans in the House subcommittee on careers and competition ended support for Visit Florida, a private organization receiving equal funding from the state and private contributions. Governor Scott had some harsh words for those House Republicans.
"I don't understand how anyone can look at Florida's booming tourism industry, and the more than 1.4 million jobs it supports, and vote to kill it," Scott said in a statement. "The legislation the Florida House is pushing puts more than 1.4 million jobs at risk and we cannot let that happen."'
Prior to the vote, Scott enlisted the Let's Get to Work political committee to drum up resistance to the vote by calling voters and telling them their legislator was in favor of a bill that would "destroy our economy and lead to higher taxes," the Associated Press reported.
In response, the Florida House produced a video attacking Visit Florida and accusing it of being involved in a secret $1 million deal with rapper Pitbull for his "Sexy Beaches" music video.
The past year hasn't been easy on the Sunshine State. Between two hurricanes, the mass shooting in Orlando, the Zika outbreak and an alligator attacking a child at DisneyWorld, convincing tourists to bring their money to Florida has proved challenging.
Despite the challenges, Florida's tourism industry still managed to draw a record number of tourists.
Via RT. This piece was reprinted by RINF Alternative News with permission or license.