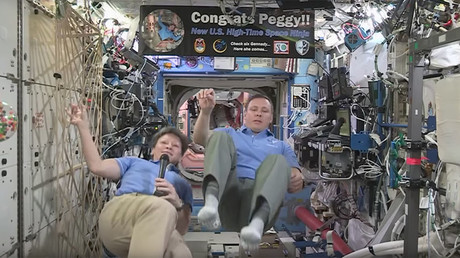 President Donald Trump has called NASA Commander Peggy Whitson aboard the International Space Station (ISS) to congratulate her for breaking an American record for total time in space. He and daughter Ivanka asked her about Mars and scientific research.
On Monday, Whitson set an American record for most time in space at 534 days. It's also the international record for a woman. Trump called her from the Oval Office to congratulate her on breaking "such a big and important record."
"I want to say that this is a very special day in the glorious American history of spaceflight," he told the 57-year-old astronaut. "That's an incredible record to break. And on behalf of our nation and, frankly, on behalf of the world, I'd like to congratulate you. That is really something."
After Whitson thanked the team at NASA for making her feat possible, she outlined the agency's missions, including heading to Mars in the 2030s and all the technology that NASA is creating to make that possible. Trump then asked her what she is currently working on aboard the ISS.
READ MORE: Record-holding Russian cosmonaut to retire from Roscosmos space agency (VIDEO, PHOTOS)
"I think probably the International Space Station is providing a key bridge from us doing, living on Earth to going somewhere into deep space," Whitson said, discussing the research the five ISS residents are conducting, including how to create more water.
"But water is such a precious resource up here that we also are cleaning up our urine and making it drinkable," Whitson noted. "And it's really not as bad as it sounds."
The president, however, didn't seem convinced.
"Well, that's good, I'm glad to hear that. Better you than me," he replied.
Trump also spoke with NASA Colonel Jack Fischer, who just arrived aboard the ISS Thursday, and couldn't contain his excitement. The president asked him about his trip.
"Oh, sir, it was awesome! It made even my beloved F-22 feel a little bit underpowered," Fischer replied, outlining his first few days on board. "Now I'm talking to the president of the United States while hanging from a wall. It's amazing."
"The International Space Station is by far the best example of international cooperation and what we can do when we work together in the history of humanity. And I am so proud to be a part of it," he added. "You know, and it's also just cool."
At that moment,  Whitson did two front flips.
"Well, there you go, there's our resident space ninja doing the gravity demonstration," Fischer continued. "And yesterday morning, I had my coffee in floaty ball form, and, sir, it was delicious. So it's awesome."
Trump asked the astronauts to outline NASA's plans for manned spaceflight to Mars, one of his key goals for the space agency. When Whitson replied that such a trip would likely happen sometime in the 2030s, the president joked about that being too far away.
"Well, we want to try doing it during my first term or, at worst, during my second term, so we'll have to speed that up a little bit, okay?" Trump asked.
"We'll do our best," Whitson replied, smiling.
The 18-minute livestream was watched by "hundreds of thousands of students" across the country, Trump said. He asked his daughter Ivanka Trump to lead the discussion on getting more women involved in science, technology, engineering and mathematics (STEM) careers.
Joining the Trumps in the Oval Office was astronaut Kate Rubins, who became the 60th woman in space last July. She returned home in October. While aboard the ISS, she sequenced DNA, an experiment that she said had far-reaching implications in space and on Earth.
The first daughter asked Whitson and Rubins to tell students how they got interested in STEM tracks. For Rubins, it was attending a DNA conference at age 15, while Whitson was inspired by the Apollo program and the first female astronauts, she said.
Throughout the video call, the astronauts stressed the need for scientific research on land and in space, the importance of international cooperation, and the high cost of Trump's goal of sending humans to Mars. Trump focused on the jobs and entrepreneurial aspects of space exploration, as well as the many military applications.
"So which one of you is ready to go to Mars?" Trump asked. "I know you're ready," he told Rubins, placing a hand on her shoulder as she raised her hand. "We just talked about that."
"We are absolutely ready to go to Mars," Whitson said, as both she and Fischer raised their hands. She then put out the call to students to study STEM courses to help NASA out on the trek to Mars.
On Twitter, many suggested Trump (and other politicians) be the first to go to the Red Planet.
Via RT. This piece was reprinted by RINF Alternative News with permission or license.