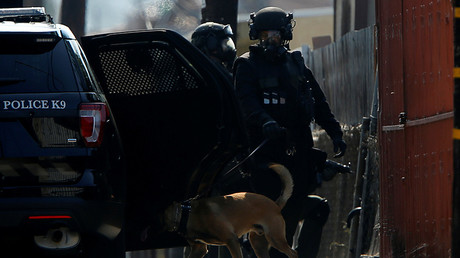 A manhunt for a shoplifting suspect turned disastrous for one homeowner who committed no crime other than living in house and being in the wrong place and the wrong time. The homeowner is now suing the city of Greenwood Village for compensation.
Leo Lech's home in Greenwood Village, Colorado had a market value of $450,000. That was before Robert Jonathan Seacat took shelter in the two-story home back in June 2015. The following actions from police left Lech's home with a lower market value, to say the least.
"They came and they destroyed the house. It was condemned, it had to be torn down, and they offered me $5,000," Lech told the Denver Post.
Lech is now suing the city to try to recoup some of his losses from the home he rented to his son.
Lech's nightmare began when Seacat was suspected of shoplifting from a Walmart. He fled to Lech's home, where he remained for 18 hours after firing on officers. When he entered, there was a nine-year-old boy in the home – possibly the son of Lech's son's fiance. The boy's mother and a police dispatcher instructed the child on how to get out of the house, the Denver Channel reported.
Seacat was then alone in the home, save for his two loaded handguns, a shotgun and methamphetamine, heroin and other drugs.
Then it got worse.
A review from the National Tactical Officers Association (NTOA) claims, "unbeknownst to law enforcement was the fact that Seacat was not only actively using methamphetamine, but he had also swallowed containers of the substance, which were now leaking into his system."
The Denver Post obtained the review from Greenwood Village.
This led to the SWAT team's descent on Lech's home. The NTOA supported the decision to "take down as much of the building as needed, without making the roof fall in."
The roof did not fall in, but that was about the only thing that was not destroyed.
"The interior of the Lech home was a mass of debris and destroyed belongings from the projectiles launched into the home," Lech's lawsuit claims.
Unfortunately, that does little for Lech, or his son, who was renting the house for $1,300 a month. Comparable home rentals in the area cost about $2,000. In addition, Lech's son and his family lost a great deal in the altercation, saying, "they were left with nothing at all, their personal belongings were destroyed."
Lech has been forced to take out a construction loan to rebuild the home. He had hoped to settle with the city for $600,000. However, they refused.
Greenwood Village city attorney Tonya Haas Davidson told the Denver Post that the $5,000 offered to Lech was "to cover his out-of-pocket deductible and provide for some temporary housing."
"That's what happens to everybody that has insurance. If you have a fire in your home, the fire department that cuts a hole in your roof doesn't pay for the damages it causes," Davidson added.
Lech just wants this all to go away.
"Why they don't settle with me, I don't know. For $600,000 I would be gone. What is this going to do to my insurance (rates)? If they think they were right in what they did, pay for what you did. You can't simply throw people out in the street," he said.
Via RT. This piece was reprinted by RINF Alternative News with permission or license.