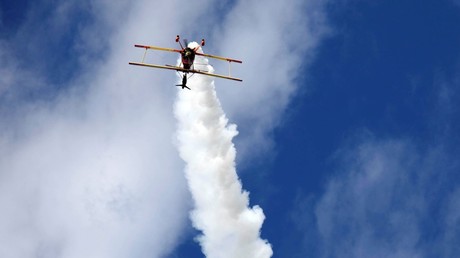 A mysterious daredevil stunned Norfolk locals when they piloted a vintage stunt plane above houses, performing a loop-the-loop with flaming fireworks trailing from the aircraft's wings.
The incident took place near the market town of Attleborough on Saturday evening, with one resident calling the police because the stunt looked so risky.
The identity of the plane's pilot remains a mystery. But the bizarre stunt show did raise eyebrows, with some people taking to social media to marvel at the extraordinary flight and light show. Footage taken by one eye witness shows the plane spinning in the air with pyrotechnics blazing from the wings of the aircraft.
READ MORE: Saudi daredevil v speeding truck: Bizarre viral stunt ends in arrest (VIDEO, PHOTOS)
"Who is this guy? Bit of a quality show in the sky above Attleborough," said one Twitter user.
"Awesome plane flying over housing estate," another person added on Instagram.
Jonathan Shortman, who witnessed the plane near Mill Lane at around 9.20pm local time, said the pilot's tricky maneuvers were a cause for concern so he called the police. The plane soon disappeared from the skies after the authorities were alerted, he told the Eastern Daily Press.
"At that time of night when it's getting darker you wouldn't expect anything like that, it wasn't even the right weather conditions for it either because of the visibility. It was quite nerve-racking, we had to keep our eye on it all the time," he said. "It didn't look like it was in control," he added.
RT.com has contacted the Norfolk Constabulary for comment on the matter.
Like this story? Share it with a friend!
Via RT. This piece was reprinted by RINF Alternative News with permission or license.