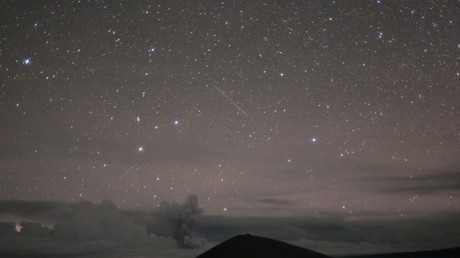 Timelapse footage captures the powerful eruption at Hawaii's Kilauea volcano, which on Thursday spewed molten rock and ash 30,000ft into the air, set against the majestic star-strewn night sky.
Explosive activity from the shield volcano on Hawaii's Big Island has resulted in scores of evacuations over fears of noxious sulfur dioxide smog. Hawaii County is now offering residents masks to protect against the plumes of ash travelling down from the Halemaumau crater.
It comes after the volcano finally erupted on Thursday, releasing lava flows, following days of ominous emissions. New footage has now emerged from a local observatory showing the massive eruption against the backdrop of a star-filled sky.
The astounding images were captured by the optical and infrared Gemini Observatory, which is located near the town of Hilo, approximately 20 miles (32km) from the foot of the volcano.
READ MORE: Hawaii's Kilauea volcano erupts, sending plume of ash 30,000ft into air (PHOTOS, VIDEOS)
According to observatory operators, the eight-meter (26ft) telescope is normally used to monitor the stars but captured stunning dark plumes of smoke and flashes of lightning during the eruption.
Astronomer Tuan Do, who has worked as a researcher at the University of California Los Angeles, said the observatory had witnessed "a volcanic explosion in addition to the Galactic center."
Footage from the Gemini North telescope on Maunakea by a camera used to monitor weather conditions. The dark plume is visible near the end of the sequence (at ~39 secs), just before sunrise. The flashes prior to the eruption are lightning. Gemini Observatory/AURA/NSF#NSFSciencepic.twitter.com/qxXvAavtyM

— Gemini Observatory (@GeminiObs) May 17, 2018
If you like this story, share it with a friend!
Via RT. This piece was reprinted by RINF Alternative News with permission or license.