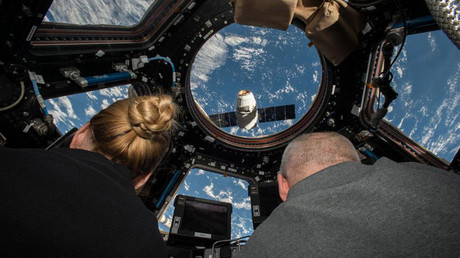 SpaceX's magic Dragon cargo ship landed in the sea after frolicking in orbit and docking with the International Space Station. NASA loved that spacecraft Dragon, which brought them research projects and science equipment and other fancy stuff.
The cargo craft splashed down in the Pacific Ocean off the coast of Mexico's Baja California on Friday, after being docked with the ISS for over a month. It brought back from orbit more than 1.5 tons of experiment samples, no-longer-needed hardware and trash.
Included in the science experiments that returned to Earth on Friday were 12 mice that visited the ISS to learn more about the long-term effects of weightlessness; heart cells that will be used to study how astronauts' immune systems are affected by space travel; and tomato seeds that will later be planted by students, NASA said.
READ MORE: Sonic booms from SpaceX rocket prompt 911 calls
American Flight Engineer Kate Rubins waved goodbye to Dragon as she and Japanese crewmate Takuya Onishi released it from the ISS just after 6 am ET (-4 GMT), slowly flying away and descending towards Earth. Six hours later, the cargo ship parachuted into "the drink" ‒ just as it was supposed to.
"Congratulations to the entire team on the successful release of the Dragon," Onishi radioed flight controllers at NASA's Space Center Houston in Texas and at SpaceX's Hawthorne, California control center. "We feel sad to [send] off the Dragon because we had a great time, enjoyed working on all [the experiments] that Dragon brought to us. So thank you very much to all team members."
Dragon took off aboard SpaceX's Falcon 9 rocket booster on July 18, carrying more than 2.5 tons of supplies and scientific equipment, as well as material for 280 experiments. The 15-story rocket's first stage returned to earth shortly after liftoff, performing a smooth vertical landing at Kennedy Space Center in Cape Canaveral, Florida.
Among the equipment the cargo ship delivered was the first of two new-style docking ports for NASA's section of the space outpost, the so-called International Docking Adapter (IDA) manufactured by Boeing. The previous one was lost in an unsuccessful launch in June of last year.
Rubins and Expedition 48 Commander Jeff Williams performed a nearly six-hour spacewalk on Saturday to install the IDA, which will enable the station to accommodate practically any spacecraft and let new arrivals in, including new SpaceX and Boeing vehicles. Prior to this installment, only Russian vehicles were able to dock with space station. SpaceX's Crew Dragon and Boeing's CST-100 Starliner plan to begin test flights with two-person crews in late 2017 and early 2018, respectively, USA Today reported.
After its recovery at sea, Dragon will be towed to port in Long Beach, California, where it will drop off the mice and other time-sensitive cargo. It will then be shipped to a SpaceX facility in McGregor, Texas for processing.
SpaceX plans to launch a Falcon 9 rocket, carrying an Israeli communications satellite, from Cape Canaveral on September 3. Its 10th mission to the ISS is expected later this fall. The company, headed by Elon Musk, has a 20-mission resupply contract with NASA worth up to $3.1 billion.
Via RT. This piece was reprinted by RINF Alternative News with permission or license.