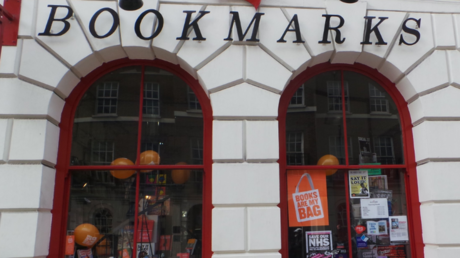 A London-based radical bookshop is to stage a solidarity event in response to their premises being invaded on Saturday by a group who who destroyed displays, wrecked books, while chanting "we love Trump."
In a message of defiance, Bookmarks of Bloomsbury, have announced on their Facebook page that they will be holding a show of solidarity event this weekend, in the wake of being targeted by "mask-wearing fascists".
"This Saturday let's show that we won't be silenced! Join us in the shop for an afternoon of speeches, book readings and celebrating radical bookselling. Free, no booking required."
Following the attack Bookmarks Bookshop is calling for a solidarity day next Saturday 11 August from 2pm. Authors such as Dr Louise Raw and others will be coming along to read and speak. Drop in and stand against those who would destroy books. More details to follow and fb event

— Bookmarks Bookshop (@Bookmarks_books) August 5, 2018
So far, over 250 people have signed up to attend with one thousand more showing an interest in the event.
The Make Britain Great Again (MBGA) group initially uploaded a Youtube video of the confrontation in the radical bookshop, before removing it from their account. The incident came after their demonstration outside BBC's headquarters, held in response to Facebook's ban on Alex Jones' conspiracy theorist and fake news website, Infowars.
The 12 minute video shows a dozen people, some of whom are holding placards with MBGA insignia on while one wears a Donald Trump mask, entering the bookstore shouting "Trump" and "Tommy Robinson". One man can be heard asking the shop assistant "Have you any books on pedophilia?" before shouting "Pedophile" repeatedly at him.
MBGA, who operate under the guise of "The People's Charter", purport to be "modern-day Chartists" and claim their purpose is to "oppose the collapse of the British culture and nation."
Following the incident, the bookshop released a statement via Twitter on Saturday detailing the attack which they say was carried out by 12 individuals.
About 6:45 this evening Bookmarks Bookshop was attacked by about a dozen masked wearing fascists. They threatened staff and attempted to destroy books and other materials. Fortunately no staff were hurt. This is the true face of fascism. No Paseran!

— Bookmarks Bookshop (@Bookmarks_books) August 4, 2018
Labour's Rupa Huq, MP for Ealing Central and Acton tweeted of the "utterly despicable" incident: "Free speech and independent bookshops – under threat in an age where intolerance and Amazon flourish – should be cherished. Utterly despicable."
Len McCluskey, general secretary of Unite the Union blasted: "…it matters that they ripped up books. The Nazis burned books. I stand with the staff and all those who support."
Yesterday the far right attacked Bookmarks bookshop. It doesn't matter it's a left wing bookshop, it matters that they ripped up books. The Nazis burned books. I stand with the staff and all those who support @Bookmarks_books#neveragain#NoPasaran

— Len McCluskey (@LenMcCluskey) August 5, 2018
Socialist, singer/songwriter Billy Bragg, also offered words of support tweeting: "Bookmarks socialist bookshop has been attacked by mask wearing fascists. Send them your solidarity."
Dave Gilchrist, manager of Bookmarks, said: "This horrific attack on a radical bookshop should send shivers down the spine of anyone who knows their history. The Nazis targeted books because they knew how important radical ideas are for challenging racism and fascism. The same is true today, and that is why we have to show that we won't be intimidated."
Like this story? Share it with a friend!
Via RT. This piece was reprinted by RINF Alternative News with permission or license.