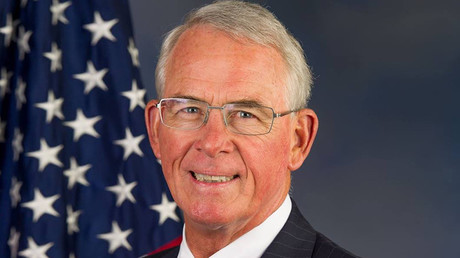 Representative Francis Rooney (R-Florida) sparked a backlash online after he accused elements of the FBI and Department of Justice (DOJ) of harboring bias against President Trump and being part of the 'deep state.'
"I'm very concerned that the DOJ and the FBI, whether you want to call it 'deep state' or what, are kind of off the rails," Rooney told MSNBC's Hallie Jackson on Tuesday, referring to the anti-Trump text messages sent between former FBI agents Peter Strzok and Lisa Page who were working on the DOJ's special investigation into allegations of collusion between Trump and Russia.
"We've seen a lot of ends before means culture, both out of the Obama administration, from Hillary Clinton with her $84 million of potentially illegal campaign contributions, the Clinton Foundation and Uranium One," Rooney said. "People need a good clean government."
Jackson then asked Rooney if he was attempting to discredit the DOJ as a way to "discredit the Russia investigation."
"No, I don't want to discredit them," Rooney replied. "I would just like to see the directors of those agencies purge it and say, 'Look, we've got a lot of great agents and great lawyers here, those are the people that I want the American people to see and know that good work is being done, not these people who are kind of the deep state."
READ MORE: 'Utter idiot': FBI agents' anti-Trump text messages released to Congress
Rooney's comments sparked a backlash on social media from liberal pundits and the so-called "resistance."
Former Clinton White House staffer Claude Taylor pledged to erect a "nasty ass billboard" in  Rooney's city of Naples, Florida, and asked for suggestions from his followers.
Some were rather vulgar.
Others called for a purge of Rooney and accused him of being part of the alleged conspiracy between Trump and Russia.
Via RT. This piece was reprinted by RINF Alternative News with permission or license.