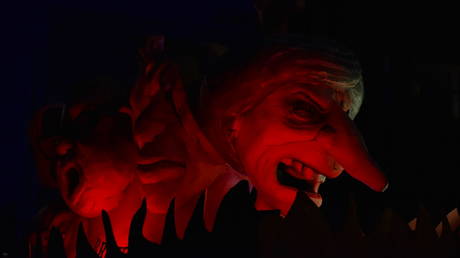 In the wake of the EU granting the UK yet another delay to Brexit with a new deadline day of October 31, it didn't take long for social media to come up with some wonderfully comical Halloween jokes, GIFs and memes.
Just when you thought Brexit couldn't get any more ridiculous, up pops European Council President Donald Tusk in the early hours of Thursday morning, after a marathon emergency summit of EU national leaders, to deliver yet another bizarre twist to this ongoing saga.
Addressing reporters in Brussels after talks, Tusk confirmed that the 27 EU member states and the UK had agreed "a flexible extension until 31 October," – the date for Halloween.
The new exit day for the UK was not lost on the social media world. Many argued that the whole Brexit process will end in some kind of apocalyptic nightmare for UK PM Theresa May and her government.
From classic horror film references and a Theresa May zombie cut-out face mask, to Tory Brexiteers dressed as 'trick or treaters' knocking on the prime minister's door, Twitter was awash with all things devilishly Halloween.
@JamesMelville argued that the new Halloween date set for Brexit will only lead to May going on another "begging tour of Europe," insisting the UK faces months of a "ghoulish and grotesque never-ending circus."
Official Brexit campaign group, Leave.EU, also joined in with a Halloween mock-up of May and Tusk, claiming that the UK PM "will never deliver" Brexit.
So we face another 6 months of this ghoulish and grotesque never-ending circus with nothing being resolved. Theresa May will then go on another begging tour of Europe to try and prevent a Halloween Brexit. pic.twitter.com/czSPoLfYvi

— James Melville (@JamesMelville) April 11, 2019
We were supposed to leave on March 29. Then it was April 12. May was "not prepared to delay Brexit any further than June 30". Now we're looking at a Halloween Brexit…

Her words are worthless. She will never deliver. We need a new leader now!

Support us https://t.co/ntwXbJeHQw

— Leave.EU (@LeaveEUOfficial) April 11, 2019
For her part, PM May conceded that there is "huge frustration from many people" that she had to "request this extension," adding that she would not pretend the coming weeks "will be easy or there is a simple way to break the deadlock in parliament."
The "flextension" agreed means that the UK has an opportunity to leave the bloc before October 31, if a Brexit deal can be agreed in the intervening period. A review of the Brexit process will take place in June.
Think your friends would be interested? Share this story!
Via RT. This piece was reprinted by RINF Alternative News with permission or license.