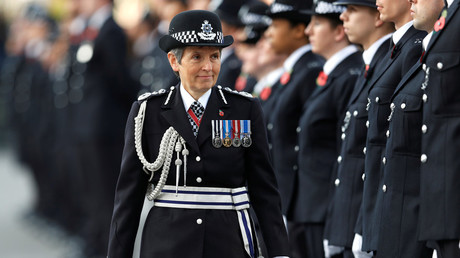 Britain's most senior police officer has warned that social media sites are creating a toxic online atmosphere among young people, capable of escalating trivial teenage disputes into violent attacks and even murders.
Speaking to The Times, Metropolitan Police Commissioner Cressida Dick blamed social media platforms for "revving people up" and intensifying conflicts between rival groups. "There's definitely something about the impact of social media in terms of people being able to go from slightly angry with each other to 'fight' very quickly," she said. Dick added that she believes social media "makes it harder for people to cool down."
READ MORE: Egyptian student dies after 'racially motivated' attack by gang of women in Nottingham
The Times cites the case of Miriam Moustafa, an 18-year-old engineering student at Nottingham College who was attacked by a group of girls in Nottingham city center after being mistaken for a person who had been goading the gang on Instagram. It had been thought that the attack near the Victoria Center shopping district had been racially motivated.
Dick's warning follows a rise in violent attacks across the UK in recent times. Knife crime offenses in England and Wales rose by 21 percent last year, according to the latest figures from the Home Office.
In February, London Mayor Sadiq Khan called for a meeting with Prime Minister Theresa May as incidents involving knives in the capital reached epidemic levels. London Assembly figures showed there were 14,521 knife crime offenses in the capital in the 12 months to January 2018, with stabbings in London at their highest level in six years – a 23 percent rise on 2016.
READ MORE: Boris Johnson wants to increase stop and search powers – even though stats show they don't work
Earlier this month, Foreign Secretary Boris Johnson reportedly told May that he wanted to see an increase in stop-and-search powers for police. According to The Spectator, the pair had a "pointed" argument at a cabinet meeting during which Johnson questioned May's decision to reduce stop and searches as home secretary in 2014.
Supporters of 'stop-and-search' claim that the powers help stamp out youth knife crime by allowing police to conduct body searches without cause. Opponents of the policy say that it disproportionately targets ethnic minorities, as black people are seven times more likely to be targeted for searches than white people.
Think your friends would be interested? Share this story!
Via RT. This piece was reprinted by RINF Alternative News with permission or license.