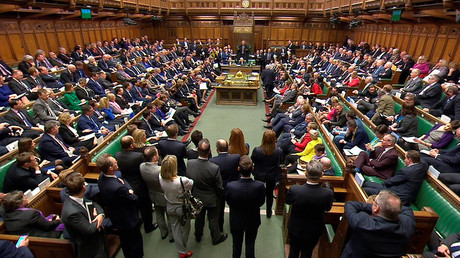 The Tory party has been condemned for its "lack of humanity and compassion" after it broke with convention and forced sick and heavily pregnant MPs to attend parliament to take part in a Brexit vote.
Labour MP Naz Shah was wheeled into the House of Commons, high on morphine with a sick bucket in her lap after the Conservative government refused to honor a longstanding convention which allows seriously ill MPs to be driven into the grounds of parliament and counted by the whips for a vote, without getting out of the car.
According to Labour officials, Tory whips would not allow Shah, who had discharged herself from hospital and driven three hours from her constituency in Bradford, for the vote, to be "nodded through."
The whips also forewent the common practice of 'pairing' where MPs from opposing sides of a vote both decline to take part, if one is unable to attend parliament.
Wearing her pyjamas she was wheeled up the floor of the House of Commons and forced to sit through the three-hour debate before casting her vote.
"I was in my pyjamas. It felt personally very undignified and very invasive. It was embarrassing. I thought I'd just be able to stay in the back of the car, where I'd made a bed for myself, and be counted there, but the Tories wouldn't have it. By making me go in to vote like that, they stripped me of my dignity," she told The Guardian.
"It was really inhumane," she said. "No other employer would force you to come in to work in that condition. As MPs we are supposed to be setting the tone for the country, setting an example. We make the laws on equality and yet we don't apply them to our own house."
In a tweet the politician confirmed she was back in hospital and expressed hope for "a democratic way forward with a kinder politics at its heart."
Shah's fellow Labour MP, who is eight months pregnant and suffering serious back pain, Laura Pidcock, was also forced to make the trek through parliament. At three times throughout the proceedings she had to use a wheelchair due to back pain.
"I had to struggle in to parliament, aided by a wheelchair at times, only to be checked out by government whips to make sure that I'm not faking it," she said. Liberal Democrat Jo Swinson also came into parliament to vote – even though she is several days past her due date.
Labour MPs have expressed their outrage at the move, heavily criticising Prime Minister Theresa May for the decision and the Tory Whips for implementing it. 
The forgoing of conventions making it harder for opposition MPs to vote, alluded to the nerves of the Tory whips that the government would be defeated.
Tory Remain MPs had threatened to rebel against the UK govt on the amendment for a 'meaningful vote' on the final terms of the Brexit deal but succumbed to late concessions. Dominic Grieve MP for Beaconsfield, who originally tabled the motion, voted against it, leading to a government win 319 to 303 votes.
READ MORE: The rebels surrender: Tory Remainers in last minute deal as MPs reject 'meaningful vote' on Brexit
Via RT. This piece was reprinted by RINF Alternative News with permission or license.