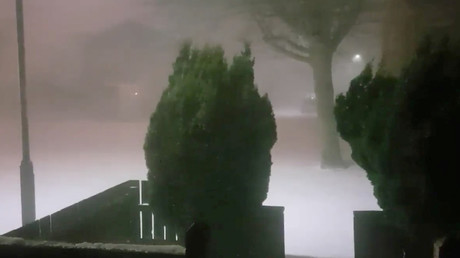 An earthquake took northern England by surprise this morning, leaving Britons to describe their homes being shaken by the surprise tremor. The quake is the second to hit the country in the space of two weeks.
Amid unusual weather for the UK, which is currently blanketed in snow, a 20-second quake struck in Cumbria, northern England. Residents reported their homes "shaking" just after 7:30am GMT following the second earthquake in the UK in less than a fortnight.
READMORE: Twitter reacts to 4.4-magnitude earthquake shake in UK
The British Geological Survey said the earthquake was a magnitude 3.2 tremor. The epicentre of the quake was recorded in Mosser, about 3.5 miles from Cockermouth.
Twitter was quickly hit with a wave of users sharing their experiences. One person wrote on Twitter: "Pretty sure I just felt an earthquake in Cumbria. The whole house rattled.
Having run outside in my pyjamas and wife's slip-ons like some sort of suburban superhero, thinking someone had crashed into the side of our house, in turns out Cumbria was in fact experiencing an earthquake. #cockermouth#theEarthMoved

— Martin Parlett (@MartinParlett) February 28, 2018
Liz Priddle said: "I have legit just felt an earthquake. My whole house just shook." Oliver James Carr put it this way: "Cumbria having an earthquake just to spice things up."
While, Kayleigh Melissa stated: "Just felt an earthquake tremor in Cumbria. The whole house shook."
The UK experiences small quakes once or twice a year. Experts say the two being so close together in 2018 is not an indication of a dangerous change. British Geological Survey seismologist Brian Baptie told the Daily Mirror: "People will have been able to feel moderate shaking, some rattling and windows shaking. We wouldn't expect there to have been any significant damage.
"All the evidence suggests both the UK and the world earthquake activity rates are fairly constant and it's unlikely this will be connected to the incident in South Wales."
Think your friends would be interested? Share this story!
Via RT. This piece was reprinted by RINF Alternative News with permission or license.