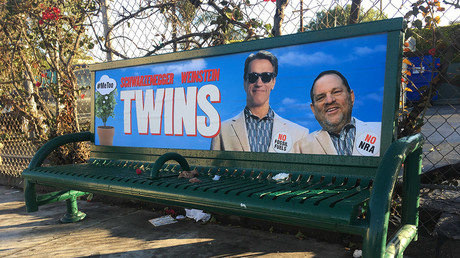 Street artist Sabo has covered Los Angeles with spoof film posters targeting Arnold Schwarzenegger, Harvey Weinstein and the #MeToo movement. The artist says he wanted to highlight their hypocrisy.
The posters were inspired by the film 'Twins,' starring Schwarzenegger and Danny DeVito, and they show the former governor of California alongside a diminutive version of disgraced film producer Weinstein, who is cast in the DeVito role. Schwarzenegger is pictured wearing a large button that reads, "No Fossil Fuels," while Weinstein sports a "No NRA" button. The images appeared across Venice Beach and Santa Monica earlier this week.
READ MORE: Sex abuse, box office bombs: Disastrous year for Hollywood comes to merciful end
The posters also made several references to the #MeToo movement. "Only their victims can tell them apart," the poster reads. The tagline is a nod to the 1988 movie, which has Schwarzenegger playing a naive yet physically imposing man who is searching for his long-lost twin brother, a rogue businessman played by DeVito.
Speaking to RT.com, the artist explained that the concept was designed to expose the perceived hypocrisy of Schwarzenegger who, as a one-time driver of a gas-guzzling Humvee, now says he is against the consumption of fossil fuels. "Then I thought the whole 'Twins' relationship he has with Weinstein, in terms of womanizing, was funnier," the artist said.
READ MORE: 'Witch hunts should be left in the Middle Ages': Oscar-winning film director blasts #MeToo
Sabo claimed that he was inspired after seeing Schwarzenegger address the South by Southwest (SXSW) music festival earlier this month, where he announced plans to sue oil for companies for "for knowingly killing people all over the world."
"We don't believe for one second Arnold is a bad as Harvey," said Sabo. "However, his SXSW speech which was enough to warrant a creative hit on Arnold. We are sick and tired of celebrities, even those from the Right, using their platforms to push policies many of us who have empowered them in the first place will suffer from."
During a speech at the Austin mega conference, Schwarzenegger announced that Weinstein's anti-National Rifle Association badge refers to his pledge to dedicate his time and money to destroying the NRA as an act of contrition for allegedly assaulting multiple women.  
Think your friends would be interested? Share this story!
Via RT. This piece was reprinted by RINF Alternative News with permission or license.