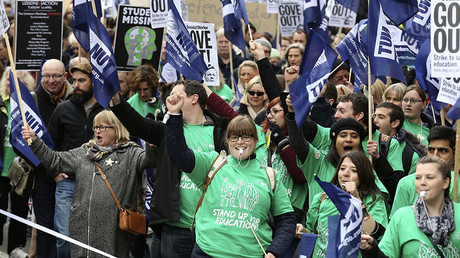 Teachers in England are "solidly" on strike over the government's cuts to funding, pay and worsening conditions, but Tory Education Secretary Nicky Morgan believes walk-outs are "wholly unnecessary."
The National Union of Teachers (NUT) confirmed the 24-hour action had the backing of the majority of its members, as well as parents and local communities.
The union's acting general secretary Kevin Courtney said: "The NUT is aware that strike action can be disruptive to parents and carers and for that we wholeheartedly apologise. Equally, teachers do not take strike action lightly. The problems facing education, however, are too great to be ignored and we know many parents share our concerns.
"The strike is about the underfunding of our schools and the negative impact it is having on children's education and teachers' terms and conditions."
According to the NUT, cuts to schools' funding have not been this severe since the 1970s.
"Class sizes going up, school trips reduced, materials and resources reduced, and subjects – particularly in the arts – are being removed from the curriculum," Courtney said.
"Teaching posts are being cut or not filled when staff leave. All of this just to balance the books.
"No parent wants this for their children. No teacher wants this for their school or pupils. The problems schools face need addressing immediately. We must not let the education of the next generation be sidelined."
Over 90 percent of all NUT members voting said yes to the day's strike action.
But Conservative minister Morgan denied claims that funding is being cut and argued the union is holding a "political" strike as less than 10 percent of teachers in England had taken part in the ballot.
"The schools' budget is the highest it has ever been this year at £40 billion [US$52.65 billion]," Morgan told BBC Radio Four's Today program.
"It has gone up £4 billion since 2011-12."
The official picket lines were bolstered in London by a group of 'superhero teachers' protesting outside the headquarters of companies helping to privatize education in Britain.
Teachers with the Radical Education Forum donned their best superhero costumes and headed to the front entrances of Pearson publishing house, consultancy group McKinsey & Co, and outsourcing giant Capita.
"Schools are facing a crisis in funding, in school places and in teacher numbers due to government cuts. But these so-called cuts are actually not cuts; they are the reallocation of funds to the elites. The idea that there's no money is a lie. The rich are getting even richer by reducing our schools to exam factories," East London teacher Eleanor said.
The world's largest education enterprise Pearson has had a growing influence on English school-life, including owning the country's largest exam board Edexcel.
Much of its $8 billion in revenue is held in 90 subsidiaries based on tax havens around the world.
The NUT strike also received the support of Green Party leader Natalie Bennett, who said: "Schools that I visit up and down the country tell me they are struggling to maintain the quality of education in the face of slashed funding. Some are being forced into making teachers and support staff redundant, which means a poorer education for pupils. Others are resisting that at the cost of spending on building maintenance, spending that can't be postponed indefinitely."
Via RT. This piece was reprinted by RINF Alternative News with permission or license.