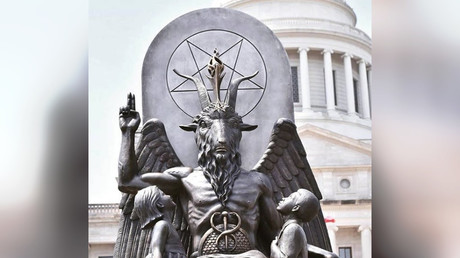 The Satanic Temple has filed a hefty $50-million lawsuit claiming its iconic Baphomet statue was hijacked to create a stereotypical representation of the supernatural evil in Netflix show 'The Chilling Adventures of Sabrina.'
The Salem, Massachusetts-based group has sued both Netflix and Warner Bros. claiming they employed the temple's iconic Baphomet statue to fan "Satanic panic" in the show. Satanists claim the artwork, which is protected by copyright, has been misused for the purposes of a stereotypically evil representation.
The statue, which the temple says cost about $100,000 to design and build, features a goat's head on a human body having both male and female traits as well as horns and a torch. Lucien Greaves, co-founder of the Satanic Temple, posted a tweet comparing their own statue with that in the Netflix show.
Their lawsuit, filed on Thursday in New York, claims Netflix and Warner Bros. misappropriated the Baphomet "in ways implying that the monument stands for evil." The real Satanists, it argues, did not deserve being associated with the show's antagonists, who "engage in cannibalism and forced-worship of a patriarchal deity."
"The Chilling Adventures of Sabrina" is a supernatural show produced by Netflix. It follows the story of Sabrina Spellman, a half-mortal half-witch teenager and is based on a comic book published under the same name.
Founded in 2012, the Satanic Temple ensures the separation of church and state and holds Satan as a symbol of "opposition to arbitrary authority."
Their website states the group strives "to encourage benevolence and empathy among all people, reject tyrannical authority, advocate practical common sense and justice." 
Satanists have previously made headlines when they sought to place the statue of Baphomet alongside a representation of the Ten Commandments at the Oklahoma state capitol. They are now involved in similar litigation against Arkansas.
Think your friends would be interested? Share this story!
Via RT. This piece was reprinted by RINF Alternative News with permission or license.