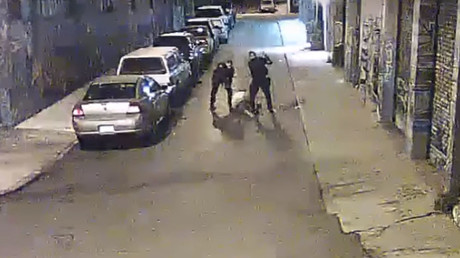 Two San Francisco sheriff's deputies face felony charges following the release of a video showing them beating a suspected car thief during an arrest. The Alameda County officers are expected to surrender by Wednesday and be held in lieu of bail.
Luis Santamaria and Paul Wieber were experienced officers. Santamaria had spent 14 years serving the Alameda County Sherrff's Office and Wieber had three years with them, yet in November, both officers were caught on film beating Stanislav Petrov with their batons in an alley.
Now the officers are charged with assault under the color of authority, along with battery with serious bodily injury and assault with a deadly weapon, according to the Los Angeles Times.
On top of that, the officers are being investigated by the San Francisco Public Corruption Task Force for additional allegations of false police statements, theft, bribery, witness tampering and other wrongdoing related to this case, KGO reported.
Petrov's representative, Michael Haddad, called the case "the worst videotaped beating since Rodney King" in a statement to the LA Times.
The video shows the two deputies chasing after Petrov on foot. When Petrov slows, seemingly to surrender, he is tackled and punched by one officer. The other officer joins them and hits Petrov with his baton until the other officer follows suit.
"It's not that he was resisting. He was just trying to protect himself with his hands," a witness to the incident told the LA Times.
The incident began when Petrov was driving what is believed to be a stolen 2015 Mercedes-Benz. When officers attempted to approach the vehicle, Petrov hit a patrol car and caused it to hit an officer. After hitting a second police car, Petrov began a 40-mile car chase before abandoning the vehicle in San Francisco's Mission District and taking off on foot into an alley where he would be beaten.
Petrov's attorneys told KGO that he was struck over 40 times. Both of his hands were found to be broken. Court documents show that Petrov suffered a concussion, broken hand bones, a mild traumatic brain injury and deep cuts to the skull.
The officers claimed that Petrov resisted arrest and was subdued after reaching for his waistband, which caused officers to fear for their safety.
Via RT. This piece was reprinted by RINF Alternative News with permission or license.