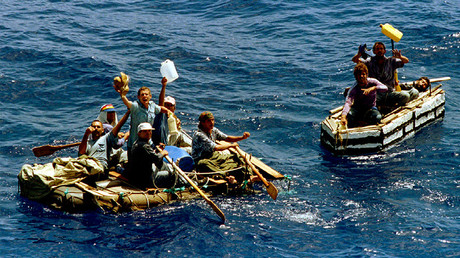 The Obama administration has repealed the "wet foot, dry foot" policy that has been in place for over 20 years, which gave legal status to any escapees from Cuba who reached US soil.
On Thursday, Obama declared the repeal of the "wet foot, dry foot" policy would take effect immediately, meaning that any Cuban who now arrives in the US risks being sent back to their country.
The original policy was set in 1995, after protests erupted in Cuba, causing Fidel Castro to tell the Cuban citizens, "whoever wanted to leave, could go." This sparked a massive exodus from the country known as the "rafter crisis."
At the time, more than 35,000 men, women, and children left Cuba, and braved the shark-infested waters of the Florida Straits in makeshift rafts to reach the US. Once they were on land ("dry foot"), the policy allowed them to stay, while any citizens found by the Coast Guard ("wet foot") were forced to return to their country.
Since then, the Cuban population in the US has grown to over 2 million, making it the third largest Hispanic population in the US, according to a Pew Research study.
The study also found that a surge in Cuban immigrants entering the US happened after President Barack Obama began normalizing relations with the country in 2014. The surge continued into 2016, where they found a 78 percent increase in immigrants from Cuba from October to December 2015, compared to the same quarter in the previous fiscal year.
Current figures from US Customs and Border Patrol (CPB) show an exponential rise in the number of visa-less Cubans who have encountered the US Customs and Border Patrol (CBP) at a border point of entry.
In 2016, the CPB reported "more than 50,000 Cubans inadmissibles presented themselves at US ports of entry (POE)."
The CPB says that if a Cuban arrives at a POE and "expresses fear of return to Cuba and/or their country of last residence," under current laws, that foreign national "may be paroled into the United States."
A May 2016 report from the Center for Immigration Studies, an advocate for limiting immigration, says that a "primary pull factor" for Cuban immigration is the "wet foot, dry foot" policy.
Once on US soil, the report claims that Cubans are fingerprinted, photographed, and a background check is done to find their criminal history. If everything checks out, they are allowed to enter the US under a law that is usually reserved for "individual cases of exceptionally compelling humanitarian or national interest."
"BP officers and agents will verify whether the individual has any criminal or existing US immigration history," the CPB site says. "If he or she is paroled, the Cuban national may be eligible under the Cuban Adjustment Act of 1966 to apply for lawful permanent residence one year after being paroled."
In 2014, Obama opened a new chapter in US relations with Cuba, ending an embargo that lasted for over 50 years, and reopening the US embassy in Havana in 2015.
Now, as Obama leaves office, he says that the "wet foot, dry foot" policy was "designed for a different era."
"By taking this step, we are treating Cuban migrants the same way we treat migrants from other countries," he said.
Via RT. This piece was reprinted by RINF Alternative News with permission or license.