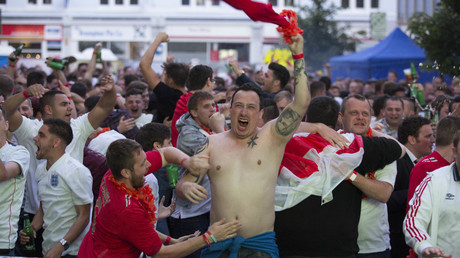 Ahead of next month's 2018 FIFA World Cup in Russia, RT's llya Petrenko asked football fans in Moscow for their thoughts on suggestions that the English flag is seen as "imperialistic."
The comments were made earlier this week by the UK's head of football policing, Mark Roberts, who warned England fans to avoid displaying St George's flags at the competition out of fear that they could be seen as "imperialistic" and "can cause antagonism" to locals.
But is the advice sound or does it add to a growing list of Russia scare stories such as keeping away from public WiFi and being wary of child hooligans?
When Russians were given options on why they thought England fans were given this advice, two suggested it may be because it was "anti-Putin", one said it was "too Christian", while another said "too nationalistic". Two managed to guess correctly saying it may be because of being perceived as "too imperialistic."
READ MORE: Police warn English fans – don't instigate violence by waving St George's flag at World Cup (VIDEO)
When asked whether they thought waving an England flag may get them into trouble, one responded: "No, that's ridiculous!" while another said that whether fans wanted to show their flags or not, "they will be safe and welcomed in Russia."
A final question on what could potentially land football-loving Brits in trouble? "Being reckless,""inappropriate behavior,""drinking too much and starting fights" were all given as sound advice.
Like this story? Share it with a friend!
Via RT. This piece was reprinted by RINF Alternative News with permission or license.