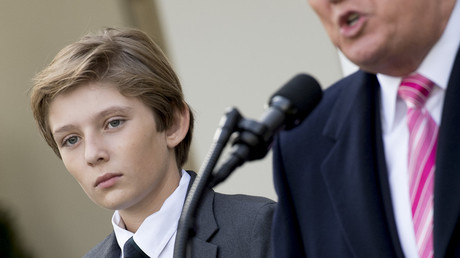 Tom Arnold, actor and ex-husband of Roseanne Barr, came under fire after he suggested protesting the Trump administration's 'zero tolerance' immigration policy by stalking and harassing the children of the first family and allies.
Arnold, who was married to Barr from 1990-1994, has emerged as one of the fiercest critics of the controversial policy of separating illegal immigrants from their children at the US border. However, instead of directing his wrath toward actual decision-makers, Arnold told his Twitter followers that targeting their kids would be more efficient.
READ MORE: NBC comedy writer suspended after mocking Trump's 10yo son on Twitter
"Next is protesting Baron's private school as well as James & Lachlan Murdoch's kids. This is what I can do to end the abuse of these children. We're going to make you uncomfortable," Arnold tweeted on Tuesday.
Baron, the 12-year-old son of US President Donald Trump and First Lady Melania, attends St. Andrew's Episcopal School in Maryland, just outside of Washington. James and Lachlan Murdoch are the sons of Australian-American media mogul Rupert Murdoch. The Murdoch family owns publishing giant News Corp and 21st Century Fox, the parent company of Fox News, which stands accused by Trump's critics of being a mouthpiece for the president.
While some of the users began alerting Secret Service and the FBI of Arnold's call to basically stalk and harass minors, the actor not only did not take back his words, he doubled down on the threat.
"Dude, we can protest at The White House too. Also Melania takes him to school. We want to have a word with her. If we see babies tomorrow we're going to Kushners kids school. Don Jr's kids are already working at Hooters so we'll protest there for lunch," the actor wrote.
Arnold's tweets follow calls by actor Peter Fonda to "rip Barron Trump from his mother's arms and put him in a cage with pedophiles," expose the identity of immigration enforcement agents, and "find out what schools their children go to and surround the schools in protest."
Fonda deleted his tweets after his rant backfired, with a number of conservative commentators calling him "unhinged" and "unstable."
Arnold's words have also drawn a widespread ire. The actor has been slammed for attacking children and being guided by double standards while doing it.
"He was silent when Obama enforced the law but now, all of a sudden… he's so mad that he's going to stalk little kids," one user wrote, branding Arnold an "insincere coward."
Some pointed out that the attack on politicians' children is not only vile and incompatible with the US political culture, but it will ultimately yield no results.
It remains to be seen if Arnold, an avid Democrat, will go down like his former wife Barr, a well-known Trump supporter, whose show was cancelled by ABC in May after a racist Twitter rant she apologized for.
Pro-Trump commentators have since pointed that it's unlikely either Arnold or Fonda would face severe repercussions, if any, given the prevailing sentiment of today's left-leaning Hollywood.
Trump's son, Donald Jr. has joined in the criticism, lashing out at the apparent case of double standards on Twitter, decrying hypocrisy by the entertainment industry that is reluctant to punish liberals while clamping down on those with conservative views.
As some Trump supporters say, the more unhinged his critics become, the worse the Democrats' chances will be in the 2020 run.
Via RT. This piece was reprinted by RINF Alternative News with permission or license.