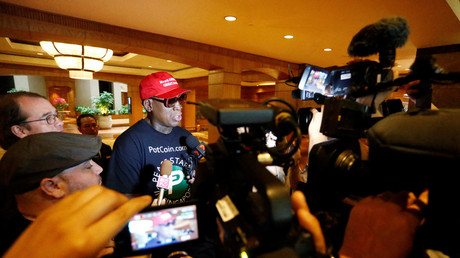 The internet reacted with all its usual wit and invention as former NBA star, and self-styled diplomat, Dennis Rodman turned in a bizarre TV appearance following the meeting of Donald Trump and Kim Jong-un.
Rodman ranted, cried and gesticulated wildly as he hailed North Korean leader Kim Jong-un and US President Donald Trump for agreeing to the Singapore summit. Wearing sunglasses and a red 'Make America Great Again' cap, the former Chicago Bulls star, who has visited North Korea in the past, talked up his own relationship with Kim and remarked on how he was rebuffed in his role as an unofficial intermediary between the US and the rogue state.
READ MORE: 'Ambassador Rodman' returns from 'really good' trip to North Korea
"I talked to Kim Jong-un and his administration over there five years ago," Rodman told CNN host Chris Cuomo. "We sat down for lunch and he said: 'If you go back to the president of the US, I'd be willing to talk to him. If they can move the ships back from South Korea, then I could do what I have to do to listen.' I tried to do that with Obama, and Obama didn't give me the time of day."
Cuomo appeared sullen and, at times, startled as Rodman turned tearful. The basketball Hall-of-Famer said that he had received threats on his life after returning from North Korea in 2014. "When I got home, I got so many death threats. I was sitting up protecting everything," he said. "But I kept my head up high, brother. I knew things were gonna change. I was the only one."
As the interview descended further into farce, and Rodman plugged the brand of cryptocurrency funding his trip to Singapore, the internet kicked the mirth machine into high gear.
READ MORE: '21st century guy' Kim Jong-un & Trump 'pretty much the same' – Dennis Rodman
Rodman's backing of Trump represents an about face for the man once described by Trump as being "either drunk or on drugs (delusional)" over claims the hotelier promised he would travel with Rodman to North Korea in 2014. Rodman had previously appeared alongside Trump on the reality TV show 'The Celebrity Apprentice'. This fact was not lost on some online commentators.
Asked whether the White House had been in contact, Rodman said Trump's secretary had called him to say, "Donald Trump is so proud of you, he says thank you." He was apparently referring to press secretary Sarah Huckabee Sanders. Rodman's agent later confirmed that his client thought he had spoken to the White House media chief.
Think your friends would be interested? Share this story!
Via RT. This piece was reprinted by RINF Alternative News with permission or license.